Minimum Wage: FG Reacts To Labour's 14-Day Ultimatum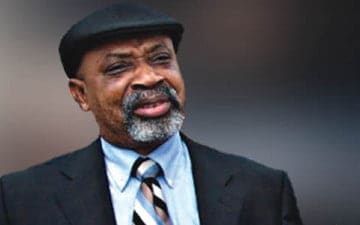 Ngige Says Labour Is Trying To Blackmail Government
The Minister of labour and employment, Dr. Chris Ngige, at a news conference on Thursday in Abuja, denied rumours that the federal government is trying to stall negotiations on the new minimum wage.
He also described the 14-day ultimatum given by the Nigerian Labour Congress as a subtle blackmail on the government.
He urged Nigerians to remain calm as the federal government is committed to the implementation of the new minimum wage as soon as possible.
"The following facts speak in that direction, if the federal government is not interested why did Mr President inaugurate the presidential committee on the new national minimum wage," he said.
"If it is not interested, Mr President would have asked me to do an inter-ministerial meeting, but Mr President took interest and set up a presidential committee.
"This presidential committee, he monitors it and I also brief him from time to time, both written and verbally.
"As a matter of fact, before the meeting adjourned last week, I have told the committee that the economic management team could not hold.
"This is due to the fact that most people in the team travelled with Mr President to China.
"Also if the federal government is not interested, why will l brief the entire tripartite committee and tell them that work is in progress."
Ngige also revealed that he had requested for two weeks from the committee to enable the federal government delegation consult with state government delegation.
"That means that the meeting can be called at any time, in one day or within three days which is still stipulated within the month of September."
"So it is very surprising to know that labour gave ultimatum of 14 days to the federal government, this is uncalled for and a subtle blackmail to the federal government," he said.
He said the chairperson of tripartite committee on the new national minimum wage would lead a delegation on Friday to brief President Muhammadu Buhari on the negotiations so far.
Copyright Naija News 2019.
All rights reserved. You may only share Naija News content using our sharing buttons. Send all news and press releases to
newsroom@naijanews.com
.