Buhari Has Spent More Days Outside The Country Than In It – PDP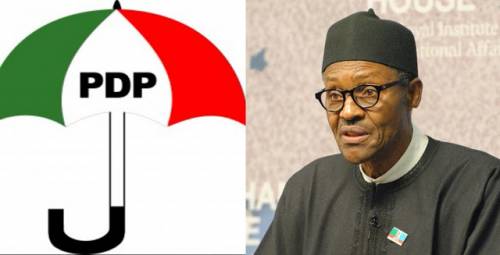 PDP Reacts To Oshiomhole's Statement About Governor Ishaku Of Taraba State
The Peoples Democratic Party, PDP has described President Muhammadu Buhari's administration as one spent by 'gallivanting across the globe' than governing Nigeria.
The PDP was reacting to the statement by the National Chairman of the All Progressives Congress, APC, Adams Oshiomhole describing Taraba State Governor, Darius Ishaku, as an absentee leader.
Oshiomhole's had said that APC would give Taraba a "resident governor" in 2019.
However, the spokesperson of PDP, Kola Ologbondiyan, in a statement said,  Oshiomhole "misfired in his attempt to lampoon Governor, Darius Ishaku, as his claim of absentee leader best suits President Muhammadu Buhari," and not the governor.
According to PDP "Unlike Governor Ishaku and other PDP governors, who are busy developing their states, in line with the manifesto of the PDP, President Buhari has spent more days gallivanting across the globe, shopping for elusive international endorsements, than the time he spent in actual governance of our nation.
"We know that Oshiomhole is distraught by the increasing popularity of our party, and particularly the soaring approval rating of our governors, including Governor Ishaku.
"We are not surprised by Oshiomhole's resort to childish mudslinging and smear campaign, instead of concentrating on ways to solve the problems he created in his derelict party, which is now stuck with an unpopular Presidential candidate.
"Moreover, whereas President Buhari, APC's brand face, cannot boast of any developmental project he has initiated and executed in the last three years, Governor Ishaku has been busy commissioning projects that have a direct bearing on the people in all critical sectors of their lives.
"Also, while APC governors are only good at moulding statues, commissioning boreholes and regular bus stops, PDP governors are commissioning mega landmark projects, many of which President Buhari's handlers lobbied for him to be allowed to cut the tape in an attempt to shore up his performance rating before Nigerians and the international community.
"Finally, since Oshiomhole has identified absenteeism as a major defect for which a leader should be removed, we charge him to start scripting his party's handover note ahead of 2019 election, as President Buhari ranks as the most absentee leader in the history of our nation."
Download NAIJA NEWS app: