Army Repels Boko Haram Attack in Damasak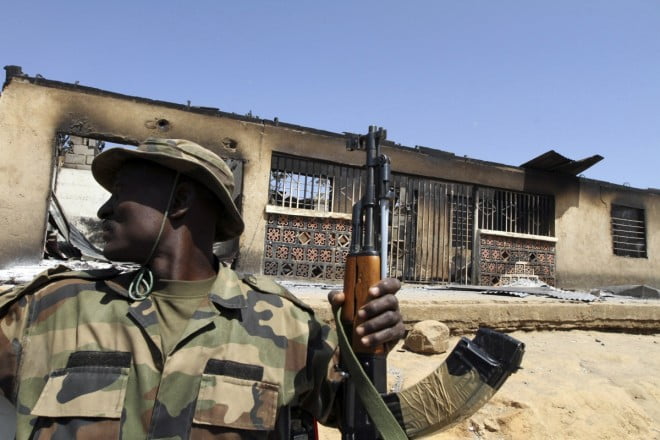 The Nigeria Military has said that it killed many Boko Haram fighters in Damasak on Thursday.
According to the Spokesperson of the Army, Brig. Texas Chukwu, the insurgents who attacked a military formation in the area at 6pm were repelled by the superior firepower of Nigerian soldiers.
"The troops engaged and subdued the terrorists following a superior fire power of troops in DAMASAK.
"The troops aggressive posture, tactics and marksmanship resulted in neutralising many Boko Haram terrorists, " he said.
Chukwu discredited online reports that Damasak community have been captured by the terrorist.
Brig.-Gen. Texas Chukwu, the Director of army public relations said: "Nigerian Army wishes to state categorically that the claim is not only untrue but capable of misleading members of the general public and the world at large.
"In the said story, the report stated inter alia, that Damasak is the location of 134 Battalion. The Nigerian Army wishes to state that there was no such battalion in Damasak.
"The Nigerian Army earlier released a statement that troops of 145 Battalion in Damasak, Borno State, are engaging Boko Haram terrorists who came to attack their location at about 6 p.m on 12 September, 2018.
"The statement also stated that fierce battle is ongoing right now and the troops are dealing with the terrorists.
"Consequently, the Nigerian Army wishes to state that the fight against Boko Haram terrorists in the North Eastern parts of the the country is yielding positive result.
"The Nigerian Army, therefore, advised members of the public, particularly residents of the affected areas, to go about their legitimate businesses and disregard the said report.
"The Nigerian Army will continue to protect lives and property of citizens at all times.
"The Nigerian Army also call on the media to always exercise caution, verify facts as well as balance their reports before rushing to the press to avoid misinforming the public on sensitive issues," Chukwu advised.
Download NAIJA NEWS app: