Refusal To Sign Electoral Act, Plot To Rig 2019 Elections – Wike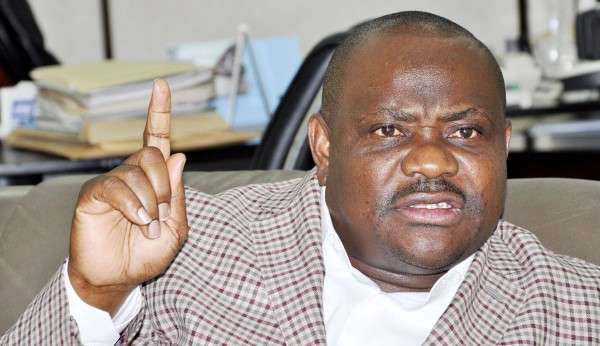 The governor of Rivers State, Nyesom Wike has said that President Muhammadu Buhari has made his plot to rig the 2019 general election through his refusal to assent to the passed Electoral Act Bill.
The governor who alleged plot to rig the 2019 general elections by All Progressives Congress (APC)-led Federal Government, while he was been interviewed in the government house, Port Harcourt said that the Federal government wanted to basically impose its candidates against the wise of the people.
"Why has the president not signed the Electoral Act? What is the fear? What do you mean by mistakes? Oh my God, what is a mistake? Errors you didn't see by one month's time? Errors for the first time, the second time, the third time. Does it not tell Nigerians these people are not prepared for election?
"All they are prepared is to write the results and let heaven fall. Most of them who have left the People's Democratic Party (PDP) to APC told me that, 'My brother, look I can confidently tell you that these people are not prepared for the election. All they want to do is write the results, let heaven fall."
"In my state? It won't happen. I know they will kill a lot of people. I can tell you, they will kill a lot of us. No problem, if that is the sacrifice, we will make." he said.
Wike also accused the Commander of Special Anti-Robbery Squad (SARS) in the state, Akin Fakorede and Deputy Commissioner of Police, Stephen Hasso, of having hand in the alleged plot to rig elections in the state.
"They are planning for Rivers State as I speak. Let me tell you, they are promoting my Commissioner of Police to Assistant Inspector General of Police, they are promoting the Deputy Commissioner of Police, who was just made a Deputy Commissioner of Police (Operation) to be Acting Commissioner of Police and the SARS man who took Rivers State Government to Court, who has perpetrated rigging of election, even by INEC report; they are going to make him the man in charge of Operations; just for the purpose of 2019 elections.
"Akin Fakorede (is) to be made the Head of Operations of the State Police Command, then, Stephen Hasso, who is the Deputy Commissioner of Police, will be made the Acting Commissioner of Police and the current Commissioner of Police will be appointed Assistant Inspector General of Police for the purpose of 2019 elections and they think that we don't know." he alleged.
The governor also called on the international community not to sit and watch as the APC led-federal government destroy the foundation of democracy in the country.
He called for stiffer diplomatic actions against the elements in the federal government.
"If it were where things are done rightly, they should revoke all the visas of those in government, who are opposed to democratic rule, principles, rule of law.
"Let me tell you, whether you like it or not, this government is bent on eliminating the key opposition."
Wike also alleged that the federal government is plotting to use security agencies to promote mass violence across Rivers, on the day of the governorship election in 2019.
"First of all, as far as 2019 election is concerned , there will be no election.
"The security agencies will help them to show that there is so much crisis in the local governments, shooting everywhere and, then, they will postpone the election.
"When they postpone the election, then, they will now bring down all their security agencies to the Rivers election.
"We know, we have people inside the system who also working with them, who also let us know these are the plans they are setting and it has been happening. Port Harcourt showed it, I told my people 'don't do anything.'
"Allow them show their hands' and they did by coming with criminals and SARS wearing their uniforms. SARS protected them to cart away materials.
"INEC REC from Akwa Ibom, not Rivers State INEC, from Akwa Ibom, one of the three RECs that were sent here said he 'saw, he witnessed, he couldn't believe it…"
Copyright Naija News 2019.
All rights reserved. You may only share Naija News content using our sharing buttons. Send all news and press releases to
newsroom@naijanews.com
.