People Don't Know What I'm Capable Of Yet – Lagos Gov. Aspirant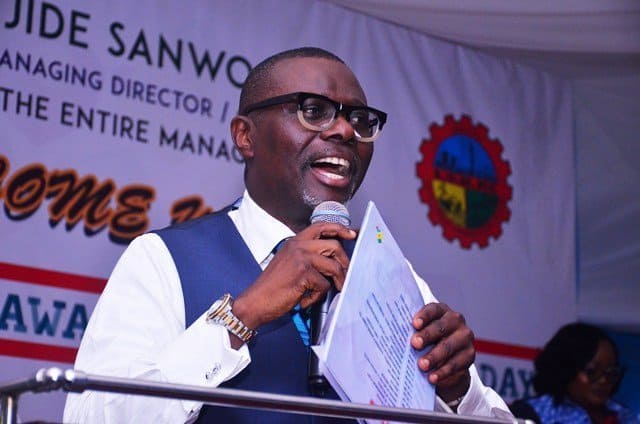 Jide Sanwoolu , a governorship aspirant of the All Progressives Congress (APC) in Lagos state, while submitting his nomination form today at APC headquarters in Abuja, said people are yet to know the kind of person he is.
Sanwolou, who is challenging Akinwunmi Ambode, governor of the state, is believed to have the Support of Bola Tinubu, estranged godfather of the governor.
However, the APC aspirant has dismissed the report, even though he acknowledged the role of Tinubu in the ruling party.
"I have just submitted my expression of interest and nomination forms to contest 2019 election under our great party. Just to formally let you know that, the exercise has been concluded and I will be taken formal declaration speech when I get back to Lagos state," he said.
"Like I said, I am 53 years myself. There is no doubt that things would be said here and there. A man that is standing in front of you, fully grown-man with several years of experience… People have been asking questions, people are yet to know the kind of person I am.
"Like I said, it is about the Lagos of our dream, it is about the Lagos we want to take to the next level.
"I think it has nothing to do with our leader and there is no denial that he's our national leader. And he takes back position not only in the state but in the national and you know he has interest in the well-being and improvement in Nigeria's dream.
"So, by extension, Lagos is a dream that he is pertinent about and we will continue to refer to him as our leader but most important thing is I am in front of you, this is who I am, this is what I have come to express to you and Lagos, certainly will be a better place to live for all us "
He said the experience he has garnered in both private and public sector has given him the capacity to take Lagos to the next level.
"But why especially is to give my number of years experience, the pedigree from the private sector and from the public sector and I think it is appropriate for me now when people of Not-too-young are with us and put that aspiration in place," he said.
"I am in the wide range of experience as I have a dream to obviously contribute a lot more as a Lagosian and son of the soil, I will just be able to let our people get to where they know that governance is all about people, it is about what we expect, it is about what will go back to them, improve the cause of life, course of security and there are lot of other things we are going to be rolling out."
He said he is part of the policies and initiatives which has transformed the face of the state.
"A whole lot of us have to redefine the Lagos project and it is not before where I will begin to rate you debate many first that people think we are done with some other individuals, there are real people behind them that have offered those initiatives and I discovered those initiatives, that have brought out those policies, that have brought out those implementations of various plans," he said.
When asked to confirm the report that he has been endorsed by 57 local government chairmen in the state, Sanwo-Olu said endorsement is a work in progress.
He also said he is in "the same family" with the Mandate Movement, the pro-Tinubu group coordinating his campaign.
"In terms of endorsement, it is a work in progress. Soon, whoever emerges is the best, it will be very preemptive of me to stand before you and say I have been supported by 57 people, that means I am going to sleep. Mandate Group is my people, we are in the same family and we will continue to work together," he said.
" At the end of the day, it is Lagosians that will elect us and we are not going to be restricted, we will get to everybody that we need to get to. We will not take anybody for granted."