Biafra: Why You Must Go Ahead With Sit-At-Home Order – Igbo Groups To IPOB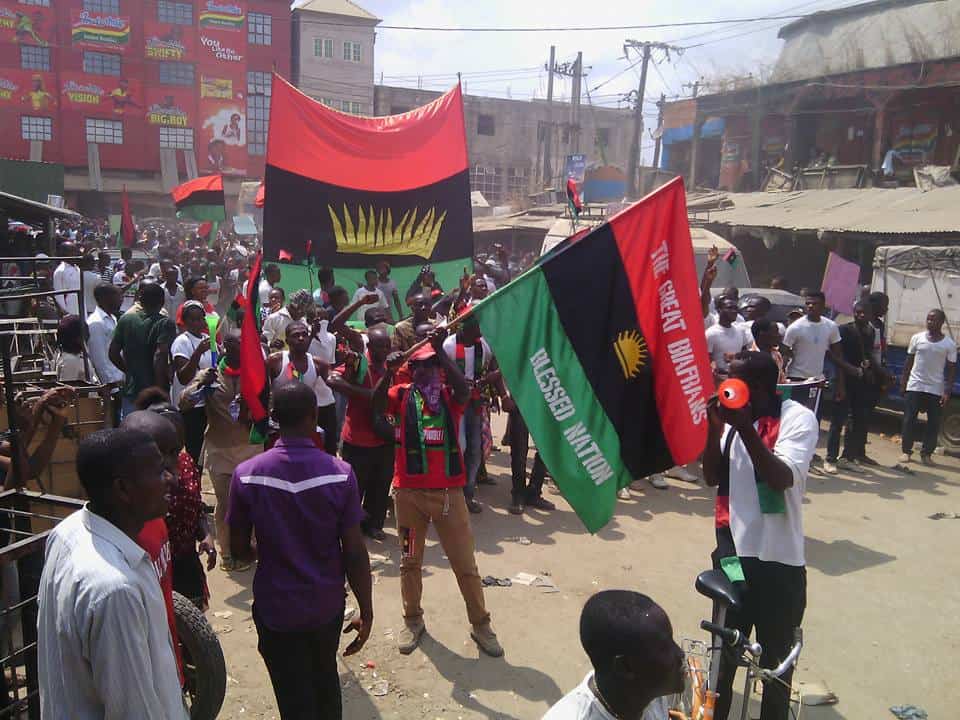 Intended IPOB Protest Of September 14 Receives Backing.
Following the sit-at home order, declared by the Indigenous People of Biafra's (IPOB's) for September 14, 2018 12 Igbo groups met in Enugu and gave their support.
The meeting which was held at the residence of Deputy Leader of Eastern Consultative Assembly (ECA), Chief Maria Okwor, was attended by traditional rulers, trader associations, youth groups and student organisations.
Okwor, who convened the meeting, said the decision to support the sit-at-home order followed the humiliation meted out to Igbo women recently during a peaceful demonstration in Owerri against the way democracy was being run in the country.
The ECA deputy leader, who stated that it was sad that the women were locked in prison after their arrest, condemned the continued ill-treatment of Ndigbo as a "conquered people."
She, therefore, called on Ndigbo to sit at home on September 14, 2018 to express their frustration with Nigeria, adding that Nigeria should be returned to the 1963 Constitution for it to survive.
Also, Secretary of ECA and founder of IYM, Evangelist Elliot Ugochukwu-Uko, described the constant invasion of Igboland with military hardware every September as provocative and insulting.
According to him,"Every September, military equipment are being moved menacingly into Igboland just to remind us that we are a conquered people. Next, they will say some students threw stones at them and mayhem will be unleashed on our people. There's no war going on here, there are no killings going on here. Igboland is peaceful, why the invasion?
He suggested that "the soldiers should be drafted to Sambisa Forest in Borno State where killings are going on every day. They should go to Plateau and Benue states and save hapless citizens who are being slaughtered daily, while the government is either blaming Libyans or telling Middle Beltans to surrender their land to the herdsmen to save their lives."
Bringing so-called Python Dance 3 to our peaceful region now is only designed to deliberately provoke a confrontation that will lead to loss of lives as they did last year". he said
Ugochukwu-Uko announced that the emergency meeting therefore asked all Ndigbo who are aggrieved over the endless provocative and humiliating invasion to stay indoors on Friday, September 14, 2018 to send a message to the world that they are angry.
The meeting also resolved to send a message to the United Nations (UN) that Nigeria would die if the structure was not returned to the 1963 Constitution, adding that it would organise a street march in October to drive home their demand for a new constitution.