Ekpenyong Threatens To Reveal Akpabio's Dirty Secrets If…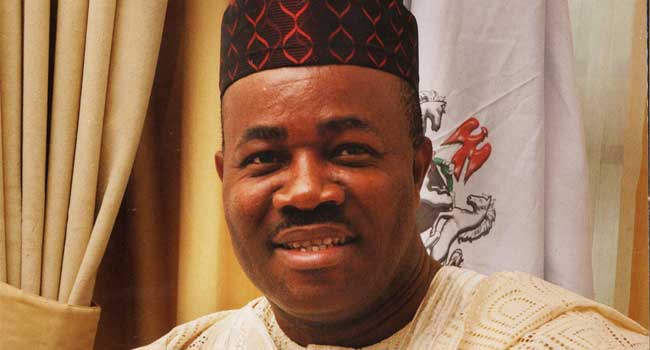 Ekpenyong Promise To Expose Akpabio
Chris Ekpenyong, former Deputy Governor of Akwa Ibom State, has promised to expose some secrets about Godswill Akpabio, if he (Akpabio) continues his campaign of lies against him.
The former governor of Abia State, Akpabio, was alleged to have claimed that Ekpenyong, had deceived him into defecting from the People's Democratic Party to the All Progressives Congress.
Report has it that Ekpenyong, who has been endorsed by the elders and stakeholders in PDP to contest against Akpabio for the Akwa Ibom North-West Senatorial seat, described the allegation as baseless and self-serving attempt drived at getting a cheap political point.
He said, "It sounds childish that someone of that level should make this kind of baseless allegation simply because I am challenging him for the mandate we willingly gave to him in 2015, which he threw away because of selfish interest.
"Assuming someone gave that kind of advice and agreed, it means someone can ask him to go and jump into the river and he would obeyed? If he (Akpabio) continues to attack me, I will unleash his records of secret deals."
While speaking with hundreds of leaders and coordinators of one of his support groups in Uyo, Ekpenyong Volunteer Movement, on Saturday, he further stated that it was time for the people of Akwa Ibom and Akwa Ibom North West Senatorial District to rescue themselves from years of subjugation and underdevelopment.
He stated the blackmailing came because PDP stakeholders in Akwa Ibom have taken the decision to enrol him as a consensus candidate to battle Akpabio and put an end to the years of underdevelopment and misrepresentation of the zone at the national level.
He said, "I am happy that generally, people know Akpabio to be an uncommon liar; he cannot continue to fool everybody all the times with his lies. I want to implore all of you to go back to your various local governments to begin your campaign for effective change in our zone."
Anietie Ekpong, Akpabio's media aide, while reacting to the statement said his boss could not have said such.
He called on Ekpenyong to release where Akpabio had been alleged to have made the statements.
He said, "I'm not aware of the statement alleged to have been made by my boss. This is politics season, so many rumours are flying about, especially from sources one cannot trace.
"If I may ask, where was the statement made? Was it at a press conference, release, interview, rally, or where else."
Source: Naija News