Ekiti Not Owing N117bn, Fayemi Making Excuses For Impending Failure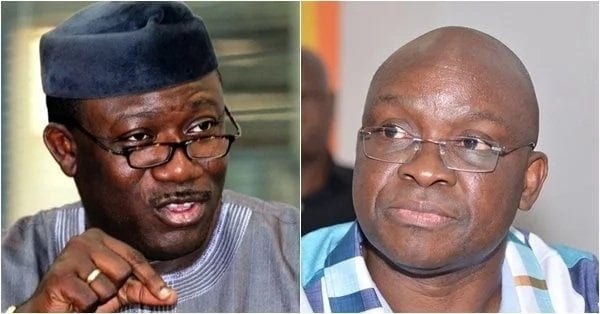 The Ekiti State Government has refuted allegation that outgoing Ayodele Fayose's government has indebted the state through bonds and commercial loans as alleged by the governor elect, Dr. Kayode Fayemi.
Lere Olayinka, the Special Assistant to the governor on Public Communications and New Media, made the position of the state government known in a press statement made available to Naija News on Sunday in Ado Ekiti
Olayinka stated that "no loan can be granted without the approval of the Debt Management Office (DMO) and the Federal Ministry of Finance and that these two offices should publish details of any loan taken by the Fayose administration, including the banks that granted such loans."
"Ekiti State indebtedness stands at N59.5 billion that was either directly inherited from the Fayemi's administration or incurred as a result of the loans restructuring done at the instance of the federal government and the Federal Economic Council."
He gave the breakdown as follows; Commercial Bank Loan, N2,087,788,065.28; CBN Grant for Water Project, N163,450,000; Excess Crude Account Backed Loan, N9,545,173,472.78; Bailout, N9,083,761,215.40; FGN Bonds, N18,226,699,707.18; State Bonds, N3,484,469,345.51 and Budget Support, N16,869,000,000.
"Particularly, the N10 billion grant released from the Excess Crude Account for capital projects was fund that should normally accrue to all States.
"Most importantly, we admit that the State workers are being owed four months' salary and this was occasioned by the monthly deductions from the State allocation as a result of huge debt incurred by the Fayemi administration. Even the N9.5 billion bailout fund was for the payment of the arrears of salaries and deduction left unpaid by the Fayemi's government."
The spokesman accused the federal government of deliberately refusing to release legitimate funds belonging to Ekiti State to the Fayose government, having concluded to rig the governorship election for Fayemi.
He said N22.6 billion refund on federal roads construction, N2.1 billion arrears of Budget Support and N14.1 billion Paris Club refund, making N38.8 billion, which should have been paid to the State since June is billed to be released in November to Fayemi's government.
He admonished Fayemi to use the N38.8 billion to clear the arrears of workers salary, which would have been paid by now if the federal government had released the fund, on the basis of which Governor Fayose promised to clear arrears of workers salary before leaving office.
He advised the governor-elect to focus on the task of defending the mandate he stole for the PDP, as his administration will not be able to equal the achievement of Fayose's government.
Source: Naija News