Sultan Of Sokoto Speaks Against Violence In Nigeria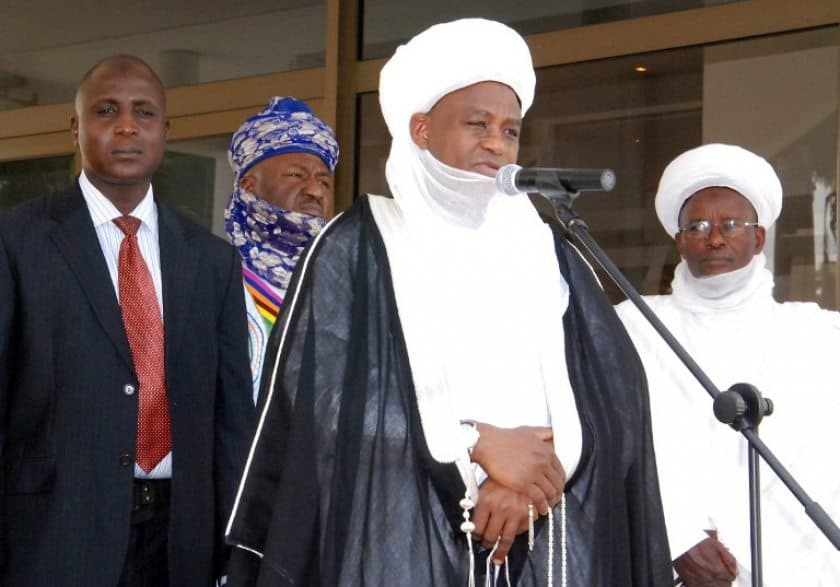 Muhammad Sa'ad Abubakar, Sultan of Sokoto, on Friday warned Nigerians to stop deceiving themselves about the situation of the country, "as all is not well with Nigeria".
He urged politicians to stop fighting in the name of defections, he took the opportunity to call on religious leaders to unite and preach against violence before the general election and after it.
Sultan made the statement when he received the Catholic Bishops of Nigeria in his palace in Sokoto yesterday.
"Politics is a choice, like religion. Therefore, let's not fight each other because of defection.
"We must tell ourselves the truth and speak the truth. Everything is not okay in Nigeria. Let's stop hiding under religion, ethnicity or region. I know we have problems in Nigeria. Let's not deceive ourselves.
"There is no fight between Christianity and Islam, but maybe disagreement between Muslims and Christians. But we must try and fish out extremists in our midst. Though, you cannot completely fish out bad eggs from the society, we should continue doing our part to ensure a peaceful country.
"We have our problems and challenges. But we should collectively try and overcome them. As leaders, we must try and work for peace. There is no problem in this world that defies solution unless we are not honest. If not, we will overcome the problems.
"We must also educate our followers that despite the challenges, we belong to one God Almighty but choose to worship God in different ways."
While reacting to the 2019 general election, he urged politicians to stop using the children of the poor to perpetrate violence.
He also spoke against killing of innocent people in the name of religion.
"People have wrong notions of Jihad. You cannot kill people pretending you are fighting for God. You are simply deceiving yourself. Jihad does not entail that. God did not create you to fight for Him," he added.
In his remarks, the National President of the Catholic Bishops of Nigeria, Archbishop Augustine Akubeze, applauded the sultan for his roles in peaceful coexistence in the country.
The Catholic Archbishop of Abuja, Cardinal Onaiyekan also noted the need for peace among religious leaders and for them to work towards ensuring peaceful coexistence among the citizens.