Sack of Police Officers not enough, Investigate Further – Clark Tells Police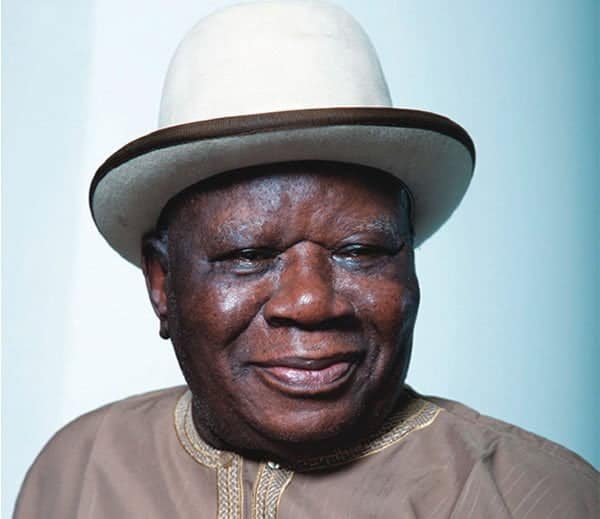 Chief Edwin Clark, the convener of the Pan Niger Delta Forum is not satisfied with the mere dismissal of policemen responsible for the raid in his Abuja home, he has further called for a full  investigation into into the invasion.
In a statement sent to Punch Online on Friday, the elder statesman said that he has accepted the apology of the police.
While admonishing the youth in the Niger Delta region. who have threatened to disrupt peace in the region as a result of the raid, Chief Clark want the Nigeria Police Force to ensure that all those concerned are brought to book.
Naija News recalls that Chief Clark's home was invaded by policemen on Tuesday, as a result of a tip off which indicates that the elder statesman has stockpiling arms in his home.
Recounting the incident in the statement, Clark said, "I have considered it necessary, at this point, to personally issue this Statement following the events which have happened in the past few days beginning with the most disturbing and embarrassing entry and search of my Abuja house by some operatives of the Nigeria Police Force.
"Let me recapitulate that, on that day, that is, Tuesday, 4th September 2018, at 12:30pm, the Police Officers in question, from the IGP Special Tactical Squad, under the command of one Deputy Commissioner of Police, Kolo Yusuf, arrived my residence in two vehicles, one 18-seater Toyota Hiace Bus and a Toyota Hilux with registration number EU 979 ABC. Some of them were outside the gate armed, while three of them came inside and presented to me a Warrant for Search duly issued by a Court of competent jurisdiction.
"As a law-abiding Citizen, a father of this Country, and a Lawyer of more than 53 years in practice, I dutifully cooperated and permitted them to carry out their official duties. I, however, left them in no doubt of who I am, and questioned if they still wanted to proceed with their official assignment of searching my entire residence for so-called stock-pile of weapons and ammunition from the Niger Delta."
Chief Clark, insisted that the incident must be investigated to ascertain if a report by a taxi driver was enough for the policemen's action.
He also thanked well meaning Nigerian and international community for their support.
"My profound gratitude to all, from far and wide, both national and international over the great show of empathy since the news came to the public domain.
"Merely sacking the officers concerned, when they were indeed carrying out official instructions, is not enough, if we are to avert such occurrences in future.
"The incident, must, therefore, be fully investigated and all those involved brought to book. In this respect, it is important to ascertain if a mere Report by a Taxi driver was enough to act on, how was the Warrant of search obtained from the Court same day?
"Why did the very senior Police Officer, whose attention was called, unable to stop the action while it was on-going?" he said.