Abuja-Kaduna Train Breaks Down I Jere, Angers Passengers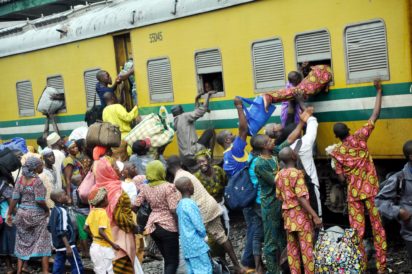 Passengers heading to Abuja were unexpectedly left stranded as the locomotive train with identification number SP00003 conveying them broken down on the outskirts of Jere Local Government Area of Kaduna State.
The occurrence instigated rage as the passengers were left disappointed.
According to reports, the train left Kaduna at about 10:35 am on Friday, stopped in Jere at about 12:20pm.
After a few minutes, an announcement was issued to the passengers apologising for the stoppage, which was blamed on a mechanical fault.
The gesture of apologise was not enough to pacify the anger of the passengers.
Alhaji Usman Bala, a passenger, said he regretted taking the train, and that despite the high cost of tickets, the locomotive coaches were not being well maintained to avoid breakdown.
"This is typical of Nigeria. Nice idea, but no maintenance culture. I took this train hoping to meet a 1pm marriage ceremony. Now it is too late.
"I regret not taking a car. I would have been in Abuja now," he said.
Hajia Aisha Bature, another enraged passenger, accused those responsible for the upkeep of the train of mismanaging the proceeds of the train.
"Despite the high transport fare, look at what we've got for showing faith. Is this what I am paying N1, 300 to Abuja for?
"Look at it, no maintenance. Honestly, I am disappointed," she lamented.
NAN also reports that the management of the train service promptly sent another locomotive to the location to convey the passengers to their destinations.
The management apologised to the passengers and promised that such development would be avoided in future.
Source: Naija News