Kwara: Yaman Slams Ahmed Led Administration Over Poor Education System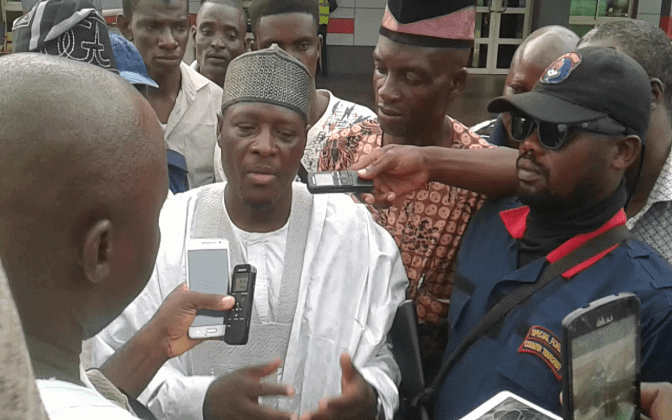 Present And Previous State Government Have Place Kwara On Reverse Gear, Yaman Says
The Kwara state Governorship aspirant, Alhaji Shuaib Yaman Abdullahi has released his agenda for 2019 governorship election.
Yaman who spoke with Naija News and some other select media at Ilorin International airport decried the poor condition of Kwara state and all the infrastructure in the state. While speaking Yaman also  lamented on how the state government poor handled the health sectors, He said,
Kwara seems to be crawling back a lot, The state that was created in 1967 and should by now be one of the best state in terms of infrastructure, Human Capital development and every other things but kwara seems to be on the reverse gear. One of must of the unfortunate and painful things is that some of us are part of The beneficiary of the system was in Kwara States.
And we saw all the things we given, all was free of Charge. Some of us grew up here in Kwara States from the beginning and got everything for free as far as Education is concerned . We have now woken up , While we were growing Up, oil was not available and People were paying their community taxes and with the help of these people on whose back we were able get where we are today unfortunately, the grand Children of those people are now suffering from the poor Conditions of the State. Kwarans are now notorious to the extent that our are boys now introduced to Armed Robbery, you can't get it worse.
Herald Was Respected, Where Is Herald Now, Yaman Says
At a time , When, in other climes people are already thinking about the jobs of the future were technology is taking the proper place. But here no proper school and in the case where schools are available no good teachers and poor salary Scheme. And look at the point of retirement when they ask for salary, they have retired.
"Our schools are almost insistent. Go other States like Osun Sates Compare to others school In Kwara States are they comparable , No,
and this very sad. Also the media which is the fourth estate of the realm and the pointer to which every body should go has also been debased in the States .
For instance I walk this morning to the knowledge that radio kwara has gone down . When other states are using technology to advance their media . I grew up in this States , I grew up here and I was a library prefect in JSS and I knew how Nigeria Herald was then.
I could remember the words of General Yakub Gowon published By the Nigerian Herald where He said Money is not the issue but how to Spend it. Herald was respected. Where is Herald now.
Yaman Also Speaks On Wealth Creation
Speaking of how to finance projects in the state, the governorship aspirant said his administration would leverage on wealth creation. "The answer is simple, I came from a wealth creation background. My business creates wealth and I know Kwara well enough to create prerequisite wealth for everybody to prosper."
"When we come in our first programme will be wealth creation, so thst our youths can be engaged. We are not going to minimize but eradicate unemployment by God's grace. We will ensure that Kwara is not just leading but will set pace of development in Nigeria
Source: Naija News