Femi Falana Speaks On The Need For Restructuring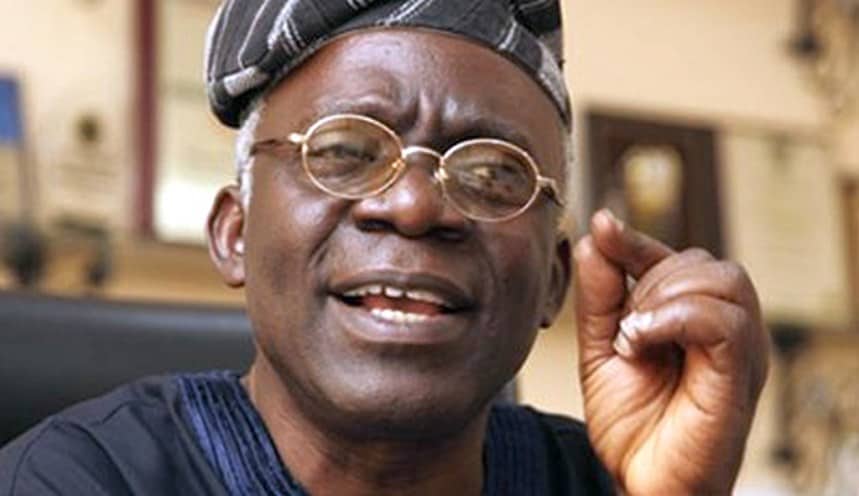 One of the most prominent Human Rights Lawyer, Mr Femi Falana (SAN), has called for the urgent restructuring of Nigeria. Naija News learnt Falana made the call yesterday while speaking at the Mike Okonkwo Annual Lecture in Lagos.
"The restructuring I'm talking about is not the one that will put more money in the pockets of rulers. "It is a restructuring that will transfer the enormous power at the centre to the federating units. Don't be talking of 2023. What is of urgency now is restructuring," he said.
Falana also said that, "Restructuring without the equitable redistribution of the commonwealth will not promote unity or political stability. Unity is not an abstract phenomenon. In concrete terms, unity means the corporate existence of Nigeria. The fact that the unity of the country is based on ruthless exploitation of the working people is of no moment as far as members of the ruling class are concerned. Since the rich are united in exploiting our national resources the exploited poor and oppressed people should unite to free themselves from poverty."
He also believes that the issue of state policing among others needs to be immediately addressed to fix some of the challenges the nation currently faces.
"You want to police Lagos, but you bring a policeman from Sokoto like the colonialists will do and you take somebody from Lagos to Sokoto. Policing begins with intelligence gathering," he said.
Falana who also slams one of the leading PDP presidential candidate, Alhaji Atiku Abubakar on his proponents idea of restructuring said his support for restructuring has not addressed the crucial issue of the redistribution of the national wealth.
"After all, in his capacity as the nation's vice-president and chairman of the National Council on Privatisation, alhaji Abubakar presided over the restructuring of the nation's economy through the liquidation of public assets and the privatization of the commanding height of the economy.
"The nation cannot be seriously restructured without equitable redistribution of wealth. Therefore, those who have cornered our commonwealth should not be allowed to talk of restructuring in vacuo. In other words, the campaign for restructuring should encompass the decentralization and democratization of political and economic powers which have been privatised by all factions of the ruling class."
Source: Naija News