What The Invasion Of My House By Police Cost Me – Edwin Clark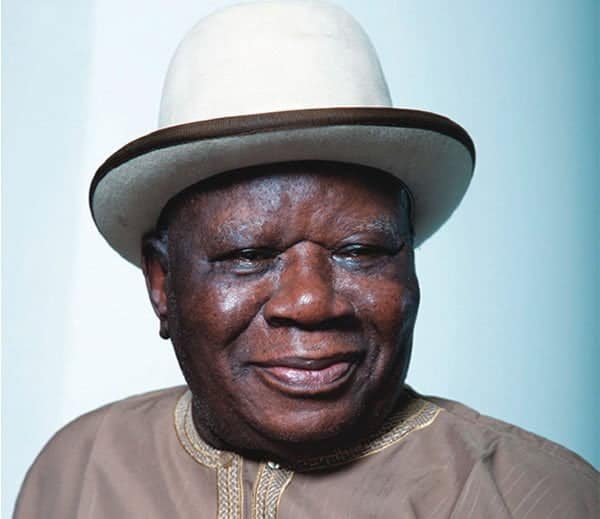 PANDEF Leader Narrates How The Police Ransacked His House.
Following the raiding of Ijaw leader, Edwin Clark's residence by Policemen on Tuesday, the Pan Niger Delta Forum and the apex socio-cultural umbrella of the Urhobo ethnic nationality, Urhobo Progress Union have reacted.
Some Operatives of the IGP's 'Special Tactical Force had invaded 43 Haile Selassie Street, Asokoro residence of the 91-year-old elder statesman at 12.30pm and left at 2.30pm, after a thorough search of the house, Naija News recalls.
While PANDEFF described the development as worrisome, a coalition of elder statesmen under the aegis of Nigerian Leaders and Elders Forum also condemned the invasion of Clark's home.
The men were reportedly led by the STS Commander, Yusuf Kolo, a Deputy Commissioner of Police to search the Former Federal Commissioner for Information and South-South leader for firearms and ammunition,
A source said that on arriving at the house, the operatives demanded to search the office of Dorothy Koko, who is Clark's Secretary.
They later proceeded to search other rooms and toilets in the building, including Clark's bedroom but found no arms or ammunition.
At the end of the exercise, the policemen were said to have signed a document indicating that no arms or ammunition were found in the house.
Three persons -a former Permanent Secretary, Ministry of Power, Amb. Godknows Igali; Secretary-General of Pan Niger Delta Forum, Dr Alfred Mulade and Mr Mac Emakpor reportedly counter-signed the document.
Narrating his experience shortly after the incident, Clark said the policemen explained that they were directed by the Inspector-General of Police, Ibrahim Idris, to search his residence for weapons.
He said, "I was in my bedroom when my boys came to inform me that there were policemen downstairs and in the parlour. I said 'what do they want,' they said they came from the Inspector-General of Police Tactical Squad with a warrant. So I said what do you want?
"They said I was selling weapons in my house so that's why they went to court to obtain a search warrant and they showed me the search warrant, I said, 'go ahead.'
"So they went down, searched everywhere; the most important part of it, my secretary, Miss Dorothy Koko, was in the bank. They said they must see that room and her bedroom and the office.
"So, she had to come from the bank to open those rooms for them to search. Then after they came up, searched my wife's room, my children's room, my other parlour upstairs and everywhere, this was what happened."
When asked what the policemen found, the octogenarian said, "They didn't find anything; they made a statement that they've come here with a warrant to search the house for ammunition, but they have searched the house, they found nothing and they took away nothing. Three of my people signed it and three of them (policemen) signed it, that's what happened."
Clark said the police action might be related to the strong position and statements made by the various political pressure groups he belonged to.
"I believe because of the various meetings we've been holding about the state of the nation, otherwise why would they expect, I'm not in Delta where I come from, that militants have come to keep ammunition in my house, but no sensible man will think that a 91-year-old man in Abuja, will be keeping ammunition in his house to fight the government, overthrow the government, this is ridiculous, shameful.
"I am not saying that people don't keep arms, but I'm not that kind of person, I speak my mind on issues affecting this country. I believe in advocacy, I believe in peace.
"When our boys, calling themselves avengers and so on, vandalised pipelines, I formed an organisation known as Pan Niger Delta Forum to stop these boys and I led about 100 people including leaders, traditional rulers, everybody, the elderly Ijaw leader said.
Naija News however reports that the Inspector General of Police has ordered the detention of one of his men who carried out the operation.
Read More News. Download Naija News App. Send us enquiries and press releases.