Five Allegedly Killed In Bida Indigene /Federal Polytechnic Student Clash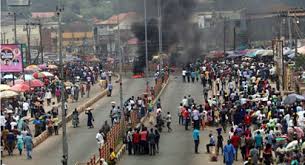 Many Killed Following Clash Between Bida Residents And Polytechnic Students
Many have been reportedly killed, while several others are injured following a clash between students of the Federal Polytechnic, Bida and some indigenes of Bida town in Niger State.
The incident reportedly occurred after a disagreement between some of the students and a commercial driver, on Saturday.
The said driver, it was gathered, was alleged to have cheated the students and refused to comply on an earlier agreement to drop them off at a particular location.
It was gathered that the students later regrouped on Sunday and with the support of some of their colleagues stormed the park which resulted in a brawl which later turned violent, involving residents of the town.
The brawl reportedly snowballed into a free for all with both parties reportedly using dangerous weapons in the process.
The institution's Public Relations Officer (PRO), Husseini Enagi,  confirmed the incident today.
Enagi was quoted as saying that the claims about loss of lives could not be substantiated, although according to him, many students were injured, and properties destroyed in the clash.
Some of the students, however, told Channels Television that at least five students were killed in the clash.
Enagi also said the institution's management will meet, today to deliberate on the matter and to also ascertain more facts concerning the incident.
Source: Naija News