Delta Church Building Collapse Leaves One death, 15 Others Injured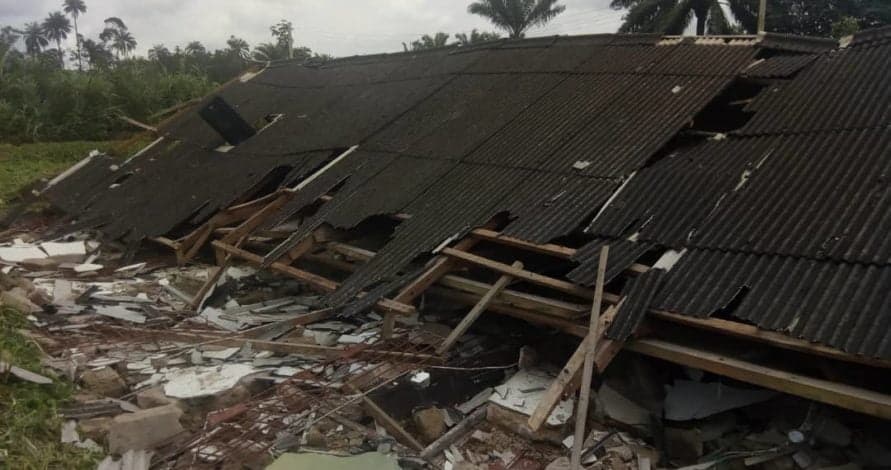 A church building collapsed in Adagbrasa community, Okpe council area of Delta on Sunday has left an eleven years old boy dead and 15 others in critical conditions.
Eleven years old Jeffrey Jackson was reportedly seen trapped under the debris while trying to escape the from the collapsing walls.
According to The Nation, the Sunday morning Mass of the St. Paul Catholic Church, Adagbrasa Ugolo, was on when the walls of the church building came crashing on parishioners.
An eyewitness account stated that although the officiating priest for the service was yet to from the headquarters of the council area, Orerokpe, the service was just starting when the incident happened.
The perishioners were conducting initial service rituals when the building collapsed.
It was also gathered that no church member was still left trapped under the rubble of the collapsed walls as all those inside escaped unhurt, except for the deceased and the fifteen injured persons.
A parishioner, Miss Elohor Amerotoraine, while narrating the ordeal said members were holding initial service rituals, awaiting the arrival of the officiating priest, when they started observing cracks and collapse of walls around them.
"I was inside the church when it happened, it was around 7:30 to 8:00am. We were having service when it happened. We are under Orerokpe so they posted a seminarian to us, but the seminarian was yet to come when it happened. So we just finished sharing the rosary and were singing some hymns when we suddenly started hearing the wall cracking and falling.
"At that point everybody started running out to escape the falling walls. Before long the entire church had collapsed, it even killed someone; a boy of about 11 years of age. The five persons who got injured have been taken to the hospital. I don't think anybody was trapped inside because we have all come out" Amerotoraine said.
The Commissioner of Police in Delta State, Muhammad Mustafa, while confirming the incident, revealed that the dead and the wounded had been evacuated from the scene.
"Yes, a Catholic church. There's only one death; an 11-year old boy, the other victims are in different hospitals now receiving treatment. I can't confirm how many of them are injured now, they are scattered in different hospitals. There's nobody still trapped under the rubbles," the police chief confirmed.
The Delta state Commissioner for Works, Chief James Augoye, who visited the scene of the collapse said the state government would investigate the cause, adding that the state would pick up the cost of treating the wounded persons.
Source: Naija News