Biafra Zionists Federation Set To Protest Against South-East Governors& Ohanaeze Over Onwuka's Disappearance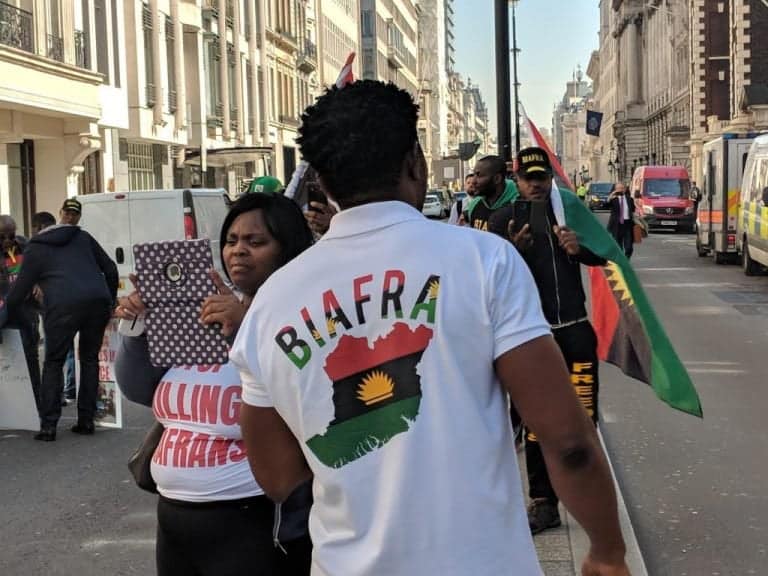 Members of the Biafra Zionists Federation, BZF has declared that they were running out of patience over the whereabouts of their leader, Barr. Benjamin Onwuka.
It will be recalled that
Naija New
s had earlier reported the arrested by security operatives after another failed attempt to enter the Enugu Government House and since then Mr Onwuka has remained incommunicado .
In a press statement by the group's Deputy Leader, Mazi Ambrose Ugwu,  said the youth wing of the BZF were mobilizing for a massive protest against the South-East Governors and the Ohanaeze Ndigbo.
Ugwu, who said the leadership of the BZF has been calming the youths down for nearly two weeks, said "as it stands now, there is very little we can do any longer.
"Our youths have run out of patience in their demand to see Onwuka, either dead or alive. No law allows for the detention of any Nigerian for more than 24 hours without being charged to court, more so when the person is being denied access to food and his relations.
"For the umpteenth time, we want to make it loud and clear, our leader, Barr. Benjamin Onwuka is being held under the instruction of the South-East Governors and the Ohanaeze Ndigbo led by Nnia Nwodo.
"Our youths are mobilizing for a massive protest and it will lead to a total shutdown of whatever is called Ohanaeze Ndigbo. We, the elders of the Zionsits have been holding them back, with the believe that those concerned will do the needful, but we can't hold them forever.
"The earlier Nnia Nwodo and his cohorts, the South-East governors release Onwuka's corpse for us, the better for them. Our demand is simple: 'we want to see our leader, dead or alive'.
"Nwodo and his Ohanaeze are merely interested in propagating the interest of his choice northern presidential candidate than the Igbo he claims to lead. A will soon come for him to pay for betraying the people and for sabotaging the Biafa struggle.
"For now, we demand immediate disbandment of the Nwodo's leadership of Ohanaeze. We have ceased to recognize him as such and urge all lovers of Igbo course to do same."
Source: Naija News