NEMA Receives Another 164 Stranded Nigerians From Libya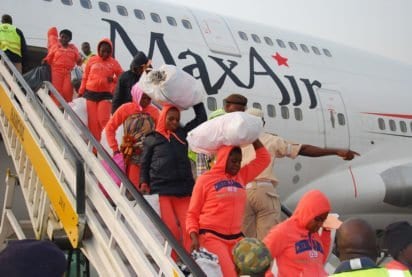 Another batch of 164 assisted voluntary returnees from Libya who were stranded in failed attempts to reach different European countries, have been received by National Emergency Management Agency (NEMA).
Mr Ibrahim Farinloye, the Public Relation Officer of the Agency, made the development known in a statement in Lagos.
He stated that the returnees arrived at the Cargo Wing of the Murtala Muhammed International Airport, Ikeja at 8:50p.m. on Thursday night.
According to Farinloye, the returnee are made up of 96 adult males, 61 adult females including seven pregnant women, two children and five infants, while 17 of the returnees had medical cases.
He said that they were brought back through the assistance of the International Organisation for Migration (IOM) aboard a Libyan Airline flight with registration number 5A-DMG.
Farinloye said that the profiling of the returnee was done by the Nigeria Immigration Service, National Agency for the Prohibition of Trafficking in Persons (NAPTIP), Refugees Commission, the Police and the Federal Airport Authority of Nigeria (FAAN) officials in the airport.
In the same vain, Mr Mustapha Maihajja, the Director General of NEMA, admonished faith and community based organisations to join government in efforts at discouraging irregular migration and the get-rich-quick syndrome in the society.
Maihajja, represented by the Southwest Zonal Coordinator, Alhaji Yakubu Suleiman, appealed to religious and community based organisations in leading attitudinal change towards discouraging irregular migration.
"When these organisations embrace the governments' efforts at curbing the menace of irregular emigration that has led to the death of several youths and rendered many incapacitated, the surge of irregular migrations will be minimised.
"As much as these bodies can cause positive change, which the government is aware of, some of them are culpable in misleading the youths based on revelations of some of the returnees," he said.
Download NAIJA NEWS app: