Osun 2018: Adeleke Of PDP Gives 6-Point Agenda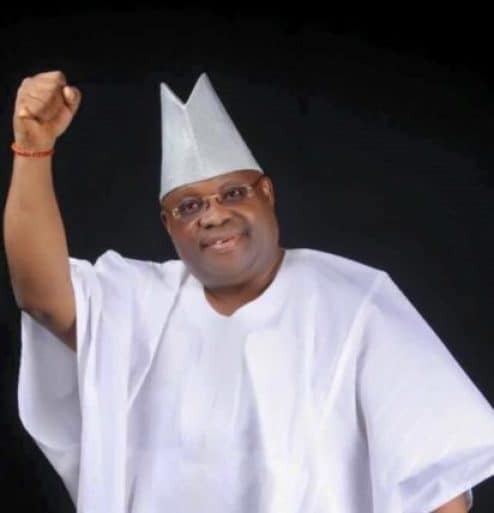 PDP Promises Good Governance To Osun People
Senator Ademola Adeleke, the governorship candidate of the Peoples Democratic Party (PDP), in the September 22 governorship contest in Osun State, has unveiled his six point agenda for the people of the state.
Addressing enthusiastic crowd of supporters at the party secretariat in Osogbo, Osun State, Adeleke said Osun has suffered enough from the hand of APC led government and their cronies, emphasizing that his agenda is designed to be people-centered.
The state chairman of the party, Hon Soji Adagunodo declared that the PDP when elected into office will bring government closer to the people.
"Our government will not throw the baby away with the bath water. We are not going to dissolve the new councils. We will strengthen the system as government needs to be closer to the people. Don't listen to their lies. Vote for PDP and send the exploiters packing on September 22", the party chairman charged Osun people.
Flanked by the party chairman, Honourable Soji Adagunodo and his running mate, Prince Albert Adeogun alongside the Director General of the campaign, Akogun Lere Oyewumi, the PDP candidate, Senator Adeleke spoke further on his agenda: "I have a vision of a state where our people can afford a decent living; a state where government workers work with pride and dignity and are paid regularly and promptly; a state where the opportunities to grow and thrive will be accessible to every son and daughter of Osun.
"A state where the mother and child receive good quality healthcare and our Aged/Elderly receive the adequate care they deserve; a state where our students rank as one of the brightest and best in Nigeria, educated by highly competent and motivated teaching staff; a state where our farmers are truly kings (AGBE LO BA), benefitting from the fruits of their labour, producing good quality farm produce, using government provided high yield seeds, trees, land, farm implements and inputs including fertilizers.
"A state where every corner is connected by a web of good road infrastructure; state that is economically buoyant with productive/gainfully employed youths; a state that will prioritize spending on people impact projects that will improve the welfare of her citizens instead of building wasteful monuments; a state with zero tolerance for corruption", he told the public and party leaders and members.
He spoke further on his six point agenda:
"1. Economic Rejuvenation through Debt restructuring, stimulation of local economy and Investment drive in a safe operating environment;
"2. Agric revolution to provide : Affordable Food for All; Local Wealth Creation – 'AGRIPRENEURS'; Market Linkages – (Produce bulk buyers &Agric Value Chain Development & Processing Centers); Effective Agric Input Services – (High yield inputs, Land, Equipment & Fertilizers); Farmers Micro Credit Scheme.
"3. Restructured educational system that Delivers Improved Qualitative Education.
"4. Improved workers' welfare and conditions of service (Prompt payment of salaries, benefits & emoluments, Training & development)
"5. Improved health care delivery with motivated and equipped health workers.
"6. Improved road and water infrastructure to cover ignored parts of the state."