Presidency Speaks On Trump's Alleged Statement That Buhari Is Lifeless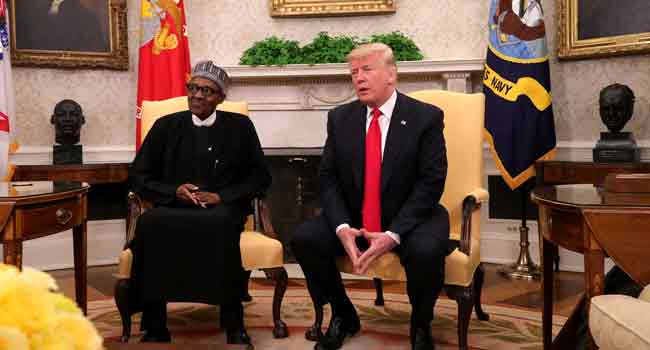 Presidency Says It Is Hardly Affected By Trump's Alleged Derogatory Statement
The presidency has bared its mind on the US President Donald Trump's viral alleged statement that President Muhammadu Buhari is lifeless.
According to a report by Financial Times, the US president reportedly told his aides he never wanted to meet someone as lifeless as Buhari again.
Speaking on Sunrise Daily, a Channels Television programme, Femi Adesina special adviser on media and publicity to President Buhari, said the Presidency is not worried by the derogatory comment, adding that  the presidency has no official position on the alleged comment.
The special adviser to the president on media and publicity said the information is not ascribed to anybody, hence it is "not verified".
"If it is unverified as it came out, then the presidency has no comment. It does not pass any concerns of good journalism," the presidential spokesman said today.
When asked if there are concerns that the comment could have a carry-over effect on public opinion about the president ahead of the 2019 elections, Adesina said the statement is inconsequential.
He said Nigeria's 2019 elections cannot be influenced by a foreign power.
"No, it won't. Nigerians are the ones that would ultimately elect their president; no foreign power will determine who gets elected," he said.
"That does not worry us because it is unsubstantiated, unverified. anybody could have planted it, you know that in the jostle for power people can do anything."
Naija News reports that US president is yet to make any reaction, as regards the alleged statement.