Oby Ezekwesili Speaks Against Unlawful Detention Of IPOB Women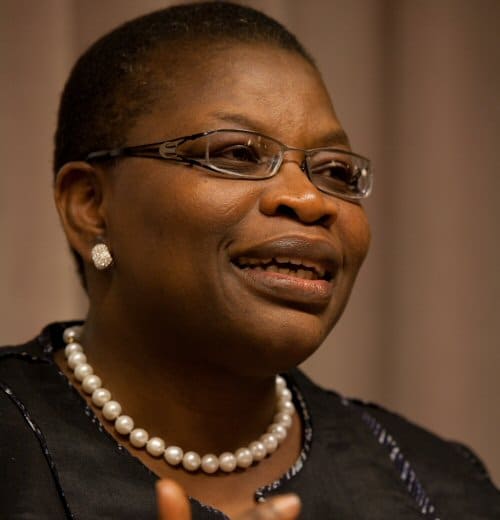 Ezekwesili Says Detention Of IPOB Women In Owerri Is A Blight On Nation's Democracy.
Former minister of Education and activist Oby Ezekwesili has joined the cry for the immediate release of the scores of Imo women held in Police detention in Owerri.
Naija News recalls that over 100 Igbo women were arrested in Imo State last Friday , following their protest against the continued disappearance of Nnamdi Kanu, the leader of the proscribed Indigenous Peoples of Biafra (IPOB).
Ezekwesili in reaction in her Tweet today, decried the detention of the women, calling out to President Muhammadu Buhari to attend to the issue immediately.
As earlier reported, police spokesperson, Andrew Enwerem simply said "Go to Owerri prison, you are a reporter. Go to the prison and find out." when inquiries were made about the women's detention.
Kanu was first arrested in October 2015 for demanding separation of Nigeria from Biafra and was later granted bail in April 2017.
The pro-Biafran separatist group leader went missing in September 2017, when his Umuahia family compound was invaded by men of Nigeria Army.
The Nigeria government has since dismissed the claims by Kanu's family members that he was being held in secret by the military and said Kanu was "hiding" somewhere.
Ezekwesili expressed concern that the women were not granted bail as prescribed under the law but will be remanded in Prison till September especially as the magistrate made it clear in her ruling that her court had no jurisdiction to entertain the case.
See her tweets below:
Pls is @AsoRock 's @NGRPresident @MBuhari aware of this UNCONSTITUTIONAL act of his staff, the IG @PoliceNG against the #ImoWomenProtesters? Remanded in JAIL until early September for PROTESTING? WOMEN JAILED FOR PROTESTING?? A GUARANTEED RIGHT? This is UNACCEPTABLE.#EndThisNOW. pic.twitter.com/9luDpzTuVX

— Oby Ezekwesili (@obyezeks) August 23, 2018
Since the Magistrate court is within Imo State Government jurisdiction, is it safe to assume that the magistrate is seeking the advice of the State Attorney General? Is it then fair that those #ImoWomenProtesters will be in prison UNTIL early September?For WHAT OFFENSE precisely?

— Oby Ezekwesili (@obyezeks) August 23, 2018
Pls is @AsoRock 's @NGRPresident @MBuhari aware of this UNCONSTITUTIONAL act of his staff, the IG @PoliceNG against the #ImoWomenProtesters? Remanded in JAIL until early September for PROTESTING? WOMEN JAILED FOR PROTESTING?? A GUARANTEED RIGHT? This is UNACCEPTABLE.#EndThisNOW. pic.twitter.com/9luDpzTuVX

— Oby Ezekwesili (@obyezeks) August 23, 2018