Akpabio, Emmanuel Udom Exchange Words Over Governing Of Akwa Ibom State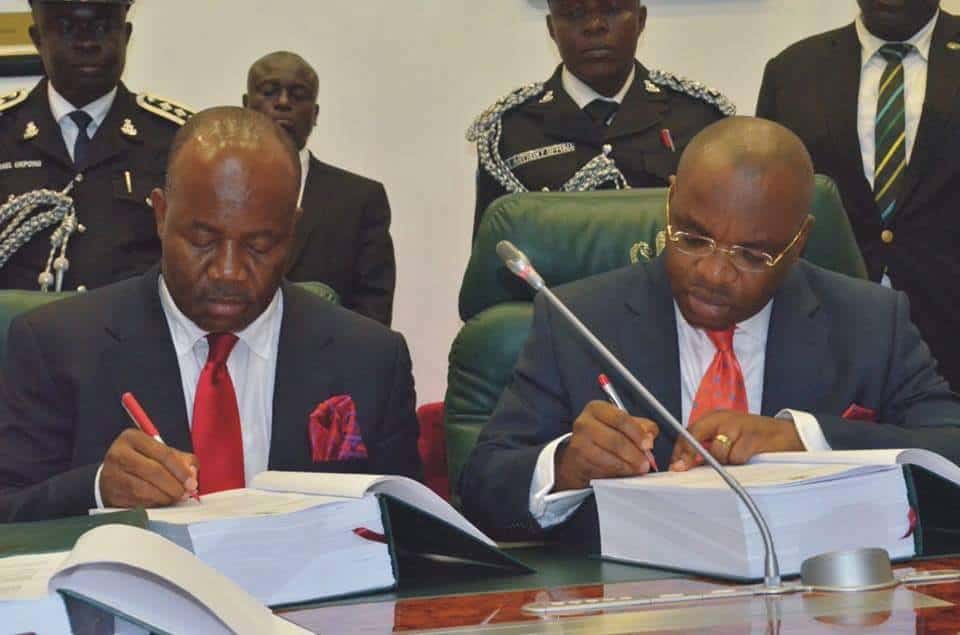 The People Have Challenged Me To Do More – Emmanuel
Godswill Akpabio, the former Minority Leader in the Senate, over the weekend has stated that he regretted imposing Udom Emmanuel, as the Akwa Ibom State Governor on the people of the state.
After returning from his mother-in-law's burial in Enugu, he apologised to a crowd at the Ikot Ekpene Plaza, he asked for their forgiveness for the decision, as reported earlier by Naija News.
He stated that Emmanuel was a mistake that must be corrected in 2019, and all hands must be on deck fro the mistake he claimed to have made.
"Udom (Emmanuel) is a mistake that must be corrected in 2019. All hands must be on the deck to ensure the mistake is corrected for a people-oriented leadership under the ruling All Progressives Congress at the centre.
"I want to thank you for defying the rain to honour me as your leader and troop out in this multitude even at a very short notice. It goes to show the level of love and confidence you have in me as your leader and I promise to also reward you for your time and energy in this all-important project," he said.
Udom Emmanuel while reacting to the statement asked those speaking ills of him to come out with facts, stating that he would not care to spend his personal resources to hire international, national, and local media to chronicle the truth about the affairs of the state.
The governor, who was indirectly referring to Akpabio, who declared him (Emmanuel) as a mistake as his (Akpabio's choice of successor) on Sunday in Ikot Ekpene, added that it was only via such an avenue that the people would know the truth.
The statement was made by Emmanuel at the grand endorsement rally in his honour by the people of Akwa Ibom South Senatorial District at Onna Sports Stadium on Monday.
"I have heard things, and I want to challenge anyone who thinks he has the truth to come out; I will use my personal money to hire CNN and other international media, AIT, Channels, NTA and AKBC. Let's present facts to Nigerians, let's see who will tell the truth and who will also tell a lie.
"However, the issue on the ground is Akwa Ibom. It's about the development of this state; it's about our children in public schools who are excelling in international competitions, it's about the price of garri that we have drastically dropped, it's about the unity of this state which we believe in," Emmanuel said.
He used the opportunity to appreciate the people of the Senatorial district for the endorsement and stated that the encouragements from all parts of the state has boosted his determination, to do more.
Governor Emmanuel, said he would declare his intention to run for a second term on Friday, August 24, 2018.
Download NAIJA NEWS app: