Ganduje Dares Kwankwaso Over His Presidential Ambition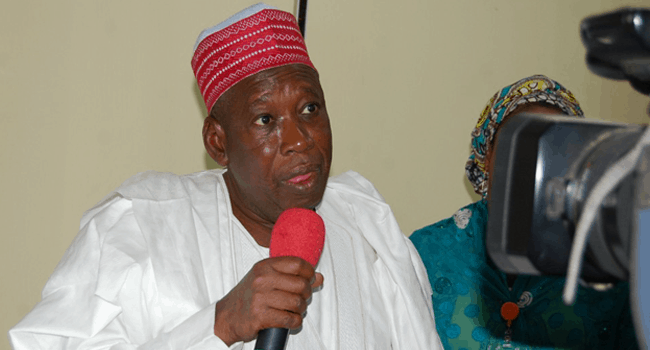 Governor Umar Ganduje of Kano State has dared his predecessor, Senator Rabi'u Musa Kwankwaso to launch his presidential campaign in Kano.
Ganduje said this on Sunday at the Kano Government house during a Women empowerment programme.
The Governor declared that the people of the state will vote en masse for President Muhammadu Buhari in 2019.
He said: "We have the right to reject him at wish, we have already rejected him. We never considered him from day one, as a presidential material. We shall continue to maintain our position about him. We know nobody but President Muhammadu Buhari.
"We, the great people of Kano, as he is aware, will use every democratic way possible to reject him (Kwankwaso) and show him an exit from political participation, even before the general election comes our way.
"We had fire outbreaks in some of our markets and this man did not care to come and sympathise with the victims.
"We raised a special committee that was given the responsibility of finding the remote causes of such disaster as well as given the mandate to collect contributions so as to alleviate some of the sufferings of the victims.
"We included as a member of the committee, somebody, a staunch follower of Kwankwaso. But this man didn't allow that person to participate in all the meetings of the committee. Neither did he send a penny as his contribution.
"Somebody will just wait somewhere telling his people that they should stay clear of anything about Kano. Is this how you want lead people? Where is the concern?
"Kano people, I am asking you, does this man really has any concern for you and your families? All we are saying is, in whose interest is he doing all these things? This man doesn't have, even an iota of feeling about Kano people, at all.
"Because he knows that he is not welcomed in Kano and he will be never be welcomed, that was why he chooses to stay away from our dear state and go somewhere, other places, not Kano, and be launching his unorganised and unpopular campaign.
"Kano is solely for Buhari come 2019, not any other person. That is why we said we are waiting for him to come to Kano and launch his campaign. We shall use all democratically accepted ways and say No!"