Army To Bring Back Operation Python Dance To South East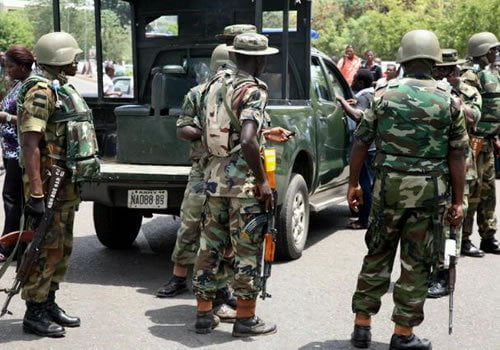 Army To Conduct Operation Python Dance 3
The Nigerian Army has disclosed that the Operation Python Dance will be conducted in the South-East region for a third time.
The General Officer Commanding, GOC, 82 Division Nigeria Army, Maj. Gen. Emmanuel Kabuk, made the revelation during a familiarisation visit to the 302 Artillery Regiment, (General Support) Onitsha, Anambra State.
Maj. Gen. Kabuk clarified that the operation is a training exercise and legal residents have nothing to fear.
He said, "Exercise Egwu Eke III, is a training exercise for troops of 82 Division of the Nigerian Army and during the training, if there are criminal activities like armed robbery, kidnapping and other criminal activities that distort peace and tranquility of the citizenry along the line, the Army will not close its eyes and watch those criminals activities to thrive."
"The Army trains on daily basis and at times, as a group annually, so Exercise Egwu Eke, from the beginning was Python Dance I. We changed it to Egwu Eke to align with the environment which is the South East, still referring to it as Python Dance II and so, we are now saying that Exercise Egwueke III is going to hold. It is still going to be a training exercise.
"Whenever Exercise Egwueke is mentioned, people always think the Army has come to do some dangerous things in the South East. It is a wrong impression, it is a training exercise, but I must tell you that the people that get afraid are criminal elements who are looking for cover in their crimes.
"We want to let Nigerians know that if we are training, we are training to defend the territorial integrity of Nigeria. So, the pro Biafra activists and killer herdsmen are also Nigerians who are misguided.
"We should not allow misguided elements to disturb our peace. What we want is for law abiding citizens to live in peace. If you are not law abiding, the law will take its course.That is all we are saying."
Naija News recalls the last Operation Python Dance was shrouded in a lot of controversy as the military and the proscribed Indigenous People of Biafra (IPOB) clashed.
IPOB leader, Nnamdi Kanu has also not been seen in public since then and his whereabouts remains unknown.