Two Aides To Governor Dickson Escape Death As Thugs Invade PDP Meeting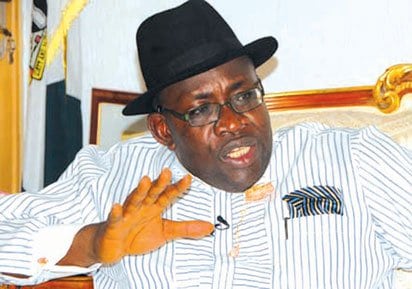 Aspirants Were Reported To Have Challenged A Former Member Of The House
Two aides to the Governor of Bayelsa State, Seriake Dickson, Messrs Godswill Ziriki and Adolphus Ofongo, escaped death on Wednesday during an armed invasion and disruption of a stakeholders' meeting.
The Peoples Democratic Party organised the meeting for House of Assembly aspirants in Southern Ijaw Local Government Area of the state.
The meeting which was convened by the Mr. Kia Nigeria, Acting Chairman of SILGA, and held at the Latik Hotel on INEC Road, Yenagoa, lasted for more than an hour before it witness invasion by alleged thugs stated to loyal to a member of the State Assembly.
The thugs were stated to have thrown chairs and threatened to kill some people in attendance.
Some eyewithness who are members of PDP, claimed that the targets of the thugs were Ziriki and Ofongo, who are the Special Adviser on Tertiary Education and the Chairman of the Local Government Service Commission respectively.
Further report into the incident revealed that though the meeting was held to interact with aspirants of the state Assembly for the seat of Constituency 3, and the return of a member of House of Assembly was stated to have led to the violence.
Ziriki was reported to have questioned the decision of the lawmaker to seek another term in the state House of Assembly.
It was gathered that many of those who attended the meeting gathered and provided protection for Ziriki and Ofongo to prevent them from being attacked by the armed thugs.
It was also gathered that the stakeholders were angry at the conduct of the accused Assembly member.
An aide to the accused Assembly member, who pleaded anonymity, denied the allegation leveled against his boss.
"It is not true that the Assembly member sponsored the disruption. He has delivered on the mandate and the people of his constituency love him to come back," the aide stated.