Saraki Says There Is No Plan To Declare Akpabio's Seat Vacant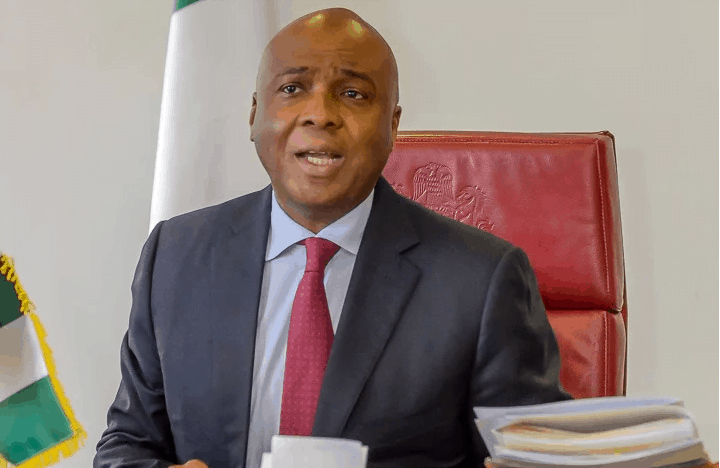 Saraki's Aide Says Saraki Has No Plan To Declare Defecting Lawmakers' Seats Vacant, Says More Serious Work's At Stake
Senate President Bukola Saraki has said there is no plan to declare the seat of a senator, Godswill Akpabio, or that of any other defecting lawmaker vacant.
Saraki was reacting to reports that he would declare vacant, the seat of Akpabio who recently defected from the Peoples Democratic party to the ruling All progressive Congress.
The Senate President as well as many other lawmakers have changed parties in the past two months, Naija News recalls.
According to Saraki's media aide Yusuph Olaniyonu today, the rumour to declare any seat vacant was false.
"All that is mere talk," he said. "People are making claims when we don't even know when they'll reconvene."
The spokesperson was making reference to the current recess of the National Assembly which was expected to be suspended this week. However, Mr Saraki and Speaker of the House of Representatives, Yakubu Dogara, released a joint statement on Tuesday saying there was no date yet for the resumption.
Speaking further on the reports of plans to declare Mr Akpabio's seat vacant, Mr Olaniyonu said, "There's a lot to be done and we don't even have time for all that one."
Commenting on reports going round that Mr Saraki risks losing his seat after the APC asked him to resign or be removed, Olaniyonu said, "These people should focus on other things and leave Saraki alone. They have turned the man into a superstar overnight,"
He called on the public to ignore such reports saying the leadership of the National Assembly is focused on making the country better.
Source: Naija News