Nigerian Army Reacts To Protest Of Its Troops At Maiduguri Airport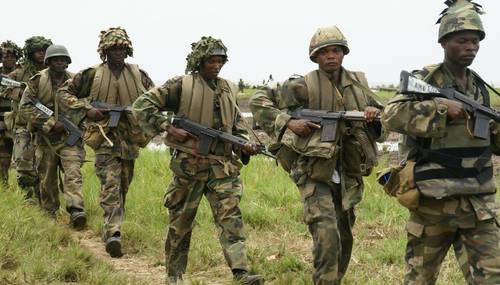 Army Says Calm Now Restored In Maiduguri Airport
The Nigerian Army has described some of its troops that protested at the Maiduguri Airport on Sunday as 'unscrupulous".
He further disclosed that calm has now been restored following the initial protest.
In a statement today, Colonel Onyema Nwachukwu, Deputy Director Public Relations, Operation Lafiya Dole Theatre Command, who confirmed the protest, but said the protest by the few unscrupulous troops happened while the command was conducting a redeployment of soldiers at the Maiduguri Airport.
According to him, the directive to review troops' deployment in Maiduguri metropolis, is to reinvigorate the security architecture of the city.
"The redeployment became expedient after a recent assessment of the security situation by the Theatre Command. Regrettably, however, a few of the troops who had misunderstood the development and erroneously assumed it was going to negatively affect their rotation from the theatre of operation became agitated and reacted by firing into the air.
"Calm has however been restored, as the Theatre Commander, Major General Abba Dikko has promptly taken charge of the situation after addressing and admonishing the troops.
"The Theatre Command undoubtedly considers this ugly incident quite regrettable and appropriate measures are being taken to forestall a recurrence," Nwachukwu said.
Naija News recalls the angry soldiers claimed they should have been allowed to go home and visit their families after spending four years combating Boko Haram fighters instead of been redeployed to to Marte to continue the fight.
The troops, during their protest on Sunday, blocked some section of the airport and fired shots in the air, causing fears among pilgrims waiting to be airlifted to Saudi Arabia for the Hajj, as well as other airport workers who fled to safety.