I'm Not Moved By R-APC's Threat, They Are Not A Political Party – Akpabio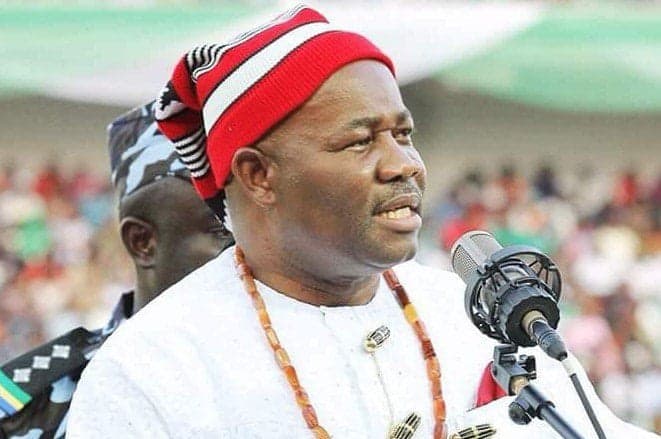 Godswill Akpabio, former senate minority leader, who is currently representing Akwa Ibom north-west in the upper legislative chamber says he is not bothered by the Reformed All Progressives Congress (R-APC)'s call to declare his seat vacant.
Yesterday , the R-APC asked Senate President Bukola Saraki to declare Akpabio's seat following his defection to the ruling party from the Peoples Democratic Party (PDP).
However, Akpabio while speaking with journalists at the national assembly today dismissed the R-APC saying the group was not a political party.
"Even as you are looking at me, do I look perturbed? I have not heard the report. Because the reason why I think that is a rumour is that there is, at the moment, no division in the APC," he said.
"The APC is one family. If you hear about R-APC that was not really a political party that was not a division, has since been consumed in what they call Coalition of United Political Parties (CUPP). So, there is no division. And so, any defection from APC to PDP, we will like to declare those seats vacant."
When asked if the All Progressives Congress (APC) senators had perfected their plans to remove Saraki, Akpabio said he hadn't been briefed on any plan.
"I just came in from Ikot-Ekpene, where I decided with my people to join APC. I'm yet to be briefed on any of those items. I have not heard anything," the senator said.
"And what I am hearing now is what you are telling me. But why don't you wait for me to formally talk to you? I believe that when the national assembly resumes you will hear from me directly. So, exercise patience."
Source: Naija News