WAEC Result Was Not Demanded For Admission Into US Varsity – Adeleke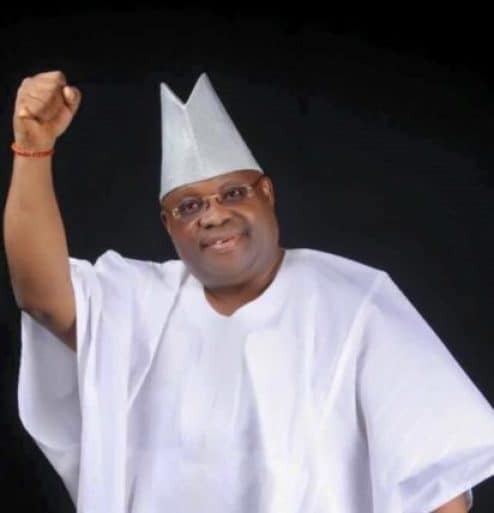 My Mates Knew Me Back In School Days For My Love For Sport
Senator Ademola Adeleke, the governorship candidate of the Peoples Democratic Party in Osun State, has stated that he got admission into the university he attended in United States without presenting his West African School Certificate Examination result.
The PDP candidate, while speaking in Ede on Thursday reacted to the dismissal of the suit filed against his eligibility before Justice David Oladimeji of the Osun State High Court.
As earlier reported by Naija News, the court has already cleared Adeleke to contest as the PDP candidate for the Osun governorship election.
The Senator, who had the support of his mates at the Ede Muslim Grammar School, Ede stated that he was well known during his days in school because of his love for sports and schoolmates.
Adeleke said that he sat for a qualifying examination before he was given admission to the university.
He said, "We all went to school and we know that some results would not be released. But they may release the remaining results tomorrow. Who knows? After I sat for the exams, my mind was in the US. The university I attended did not need our qualification from here. I sat for their qualifying exam."
He stated that he has been in meeting with aspirants that contested with him for the PDP ticket and has held a meeting with Dr Akin Ogunbiyi in the presence of the National Chairman of the party, Prince Uche Secondus, and the national organising secretary of the party.
Adeleke said, "I chose to remain quiet since the conclusion of the governorship primary for two reasons; first it is my unchanged belief in party supremacy and utmost respect for the leadership of our great party.
"The second reason is because the issue of my qualification and eligibility as a governorship candidate has been a subject of litigation until yesterday. Now that a judicial pronouncement confirming my qualification and eligibility to contest has been made, the time is now right to speak on the matter.
"For the records, let me reiterate the obvious and easily verifiable fact that I attended the Ede Muslim Grammar School between 1979 and 1981, my schoolmates are everywhere, and some are even here with me. While in school, I was a lover of football, so I was very popular. I was elected the president of the alumni association of this same school until recently."
He described those questioning his attendance at the school as "clearly being mischievous and deceptive."
Adeleke added, "I also must express my gratitude to the judiciary for upholding the truth despite the pressure. It is now clear and proven that I did not forge any certificate or testimonial. In any case, how can I forge a testimonial that simply attests to the fact of my attendance at the school?".
He took the opportunity to assure the people of the state of his determination to provide quality leadership and to rescue them from the mess of the present administration in the state.
Source: Naija News