Exclusive: Why Daura Ordered The Invasion Of National Assembly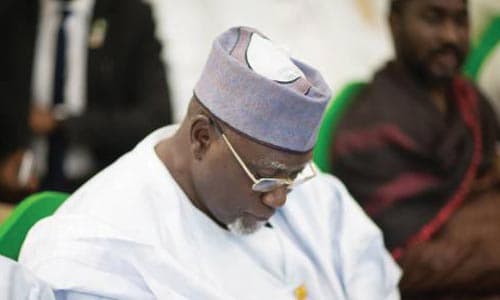 Mr Lawal Musa Daura, the immediate passed Director General of the Department of State Security Service, who was recently disgraced out of office has revealed why he deployed masked operatives of the secret service to the National Assembly on Tuesday.
He explained that he took the step based onan intelligence tip off that unauthorised persons were planning to smuggle dangerous weapons and incriminating items into the complex.
Daura made the confession in an interim investigation report submitted by the Inspector General of Police, Idris Ibrahim to the acting president, Prof. Yemi Osinbajo.
A copy of the report obtained by Naija News indicated that Daura carried out the siege on the National Assembly without the approval of the acting president.
"The former Director-General, Department of State Security Service, Mr Lawal Musa Daura acted unilaterally without informing the presidency. He did not share or intimate other security agencies on the unlawful operations," Idris said in the report.
The IGP said that Daura's claim on  intelligence report could not be substantiated as the personnel deployed were not EOD (Explosive Ordnance Disposal) experts or specialist in this regard.
Masked and unmasked DSS operatives blocked all entry or exit from the National Assembly on Tuesday denying Senators access into their offices.
A female member of the House of Representatives, Boma Goodhead from Rivers State (PDP) confronted the DSS men laying siege at the National Assembly, daring them to shoot her.
Acting President Yemi Osinbajo within hours of the siege terminated the appointment of the Daura and he was swiftly arrested for interrogation.