Why I Left PDP For APC – Akpabio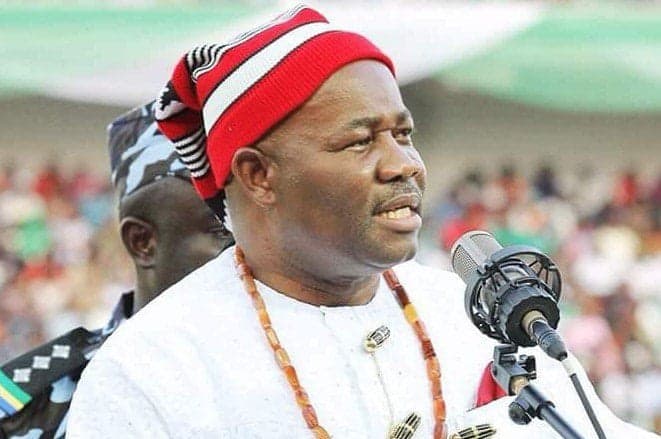 Senator Obong Godswill Akpabio, the former majority leader of the Senate, as attributed his decision to leave the People Democratic Party (PDP) for the All Progressive Congress (APC) was for the benefit of Nigeria.
The Former governor of Akwa Ibom made this known at a grand rally in Ikot Ekpene on Wednesday where he formerly decamped from the main opposition PDP to the APC.
He stated that he was motivated to leave the PDP by the love he has for the country, especially at a time the nation needed peace to grapple with pressing challenges.
"I decided to join the APC at this time because I am a nationalist. In times like this, everybody should support to bring peace to our dear nation; to stop the killings and ensure employment for our teeming youths."
"With my declaration, uncommon change has come to Akwa Ibom. We believe that South-South cannot stand alone on its own.
"We need to collaborate with others. I consulted. What I have done today is to take the people of the South-South to the centre.
"Whatever I do is in the interest of of Akwa Ibom. I want to leave a legacy in the national interest.
"With my exit, this is the end of PDP in Niger Delta Delta''. he said.
He also urged Nigerians to believe in the administration of President Muhammadu Buhari.
"Do not be afraid of President Muhammadu Buhari. If your hands are clean. Nigerians have not seen the best of Buhari; so give him the chance.''
He also advices his colleagues in the national Assembly to reconvene and see to the national issues that call for emergency.
The News Agency of Nigeria (NAN) reports that APC stalwarts at the event included the National Chairman, Comrade Adams Oshiomhole, Party Leader, Asiwaju Bola Tinubu and former Lagos state Governor.
Those who decamped with Akpabio from PDP were former Deputy Inspector-General of Police, Udom Ekpoudom and former Secretary to the State Government Eteakamba Umoren among others.