Who Is Boma GoodHead?
Facts have now been unfolded as to the reason behind the boldness of female lawmaker, Boma GoodHead who stood her grounds whilst the operatives of the DSS laid siege on the National Assembly on Tuesday.
The female lawmaker representing Akuku -Toru/Asari-Toru Federal Constituency of Rivers State on the platform of the Peoples Democratic Party (PDP), dared the armed security operatives early Tuesday morning.
Asked what prompted her to confront the DSS operatives even at the risk of her life, she said: "When I saw what was going on, I just felt that it was very, very undemocratic and provocative because you cannot just come to someone's house or office and say you would not allow him entrance to their property or office where he works, especially when I saw them (security agents) in masks.
Most of the time when people go in with their masks, it is either they are there as snipers or they are there as people that want to do a quick job and would not want their identity to be revealed to anybody.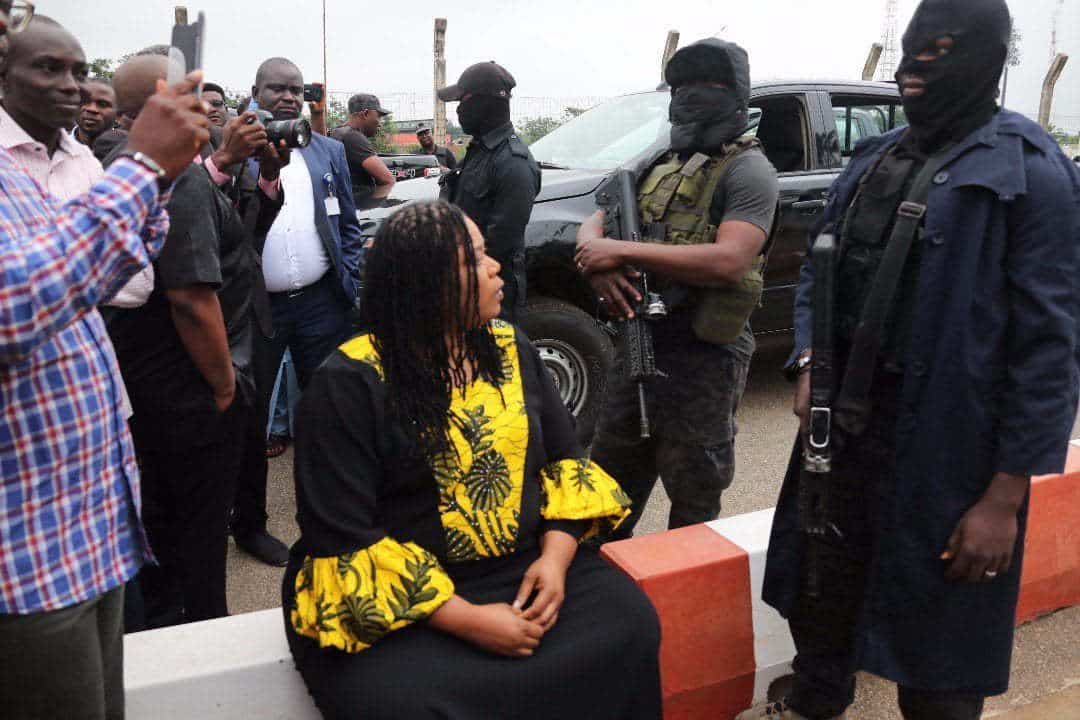 "So that was what made me to react that way.
She added; In fact it was an anger within me that spurred me to action. I said no! Enough is enough! We cannot continue in this manner.
The executive has continued to abuse all the democratic processes. That was what propped up that in me.
Prior to the incident, Goodhead had, penultimate week, given reporters covering the House an inkling of how combative she could be when provoked.
When the 37 members of the All Progressives Congress (APC) in the House defected to the PDP the brave lawmaker had, had a shouting match with Mr. Munir Baba Dan Agundi from Kano State over his fruitless effort to encourage some of the defectors to retrace their steps.
It took the intervention of the Speaker of the House, Yakubu Dogara and some of her colleagues to convince Goodhead to let the matter lie low.
Background Of Boma Goodhead
Boma Goodhead was born in 1970 and hails from Buguma city in Asari Toru Local Government Area of Rivers State.
Her father was retired Justice Melford Dokubo Goodhead.
Before her election as a member of the House of Representatives, under the PDP, she had on three occasions contested elections to represent her constituency in the Rivers State House of Assembly and lost in all.
Ms. Goodhead is a graduate of the University of Port Harcourt, and in 2015, contested for a seat in the House of Representatives to represent her constituency and won.
It is widely speculated in her constituency that she got the slot owing to the influence of her brother, Asari Dokubo, who was very supportive of the President Goodluck Jonathan administration and the incumbent state government.
Naija News also learnt that prior to this time, she followed a lot of Ijaw Youth Council (IYC) activities, especially when Dokubo was the organisation's president, until his detention and subsequent release by President Umaru Yar Adua in June 2007.
When her elder brother was arrested by the Federal Government between 2006 and 2007, she became actively involved in the activities and struggle to free him.
Her audacious confrontation with the security operatives at the National Assembly was not the first of such.
Once, when Asari Dokubo was arraigned in Abuja during his incarceration, Boma had confronted DSS operatives who brought him to court.
The Guardian learnt from a source close to her that she fiercely resisted the security operatives taking her brother back to jail.
IYC president, Eric Omare, who is close to the lawmaker, said that he was not surprised that she audaciously resisted the masked security operatives.
"What she demonstrated on Tuesday runs in the family blood.
During one of the trial days of the former IYC president, Asari Dokubo, she also confronted security forces over his unjust detention. She is somebody that does not keep quiet in the face of oppression.
"I was not surprised about what she did, having known her and her family background.
In spite of the fact that she had demonstrated this in the past before, Tuesday was a special occasion in the sense that she confronted tyranny and tyranny succumbed to the superior will of the people.
For her to demonstrate such boldness, the IYC is very proud of her. She is a product of the Niger Delta struggle," he said.
---
Copyright Naija News 2019.
All rights reserved. You may only share Naija News content using our sharing buttons. Send all news and press releases to
newsroom@naijanews.com
.