Atiku, Others Reacts To The DSS Siege On National Assembly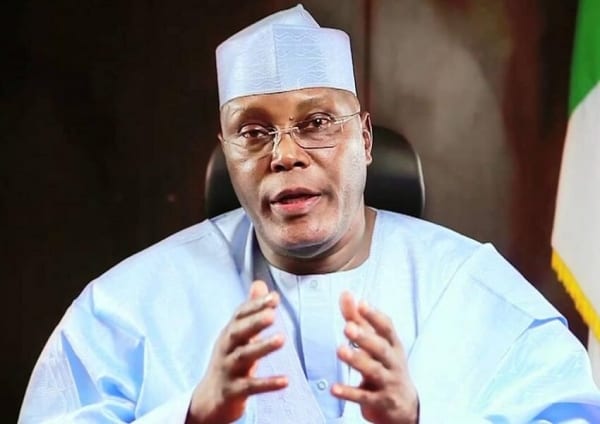 Reactions Trail National Assembly Invasion By Security Operatives
The siege on the National Assembly complex in Abuja by operatives of the Department of State Services and the Nigerian Police, has continued to attract reactions from several Nigerians.
One of those who have reacted is former Vice President Atiku Abubakar, who in a statement released by his media aide, Paul Ibe, condemned and described the act as an illegal and undemocratic attempt to force a change in the Nigerian Senate's leadership.
"The attention of former Vice President of Nigeria, Atiku Abubakar has been drawn to an illegal and undemocratic attempt by fascist forces to break into the National Assembly for the purpose of furthering the agenda to force a change in the Nigerian Senate's leadership," the statement reads.
"Atiku Abubakar completely condemns this atrocity and calls on all those involved to put Nigeria first and abandon this madness."
"The Constitution of the Federal Republic of Nigeria, as amended, guarantees both the independence of the Legislature and Separation of Powers. Nigeria is a democracy not a military dictatorship and we the people will never return to tyranny."
"Atiku Abubakar calls on President Muhammadu Buhari and acting President Yemi Osinbajo to stop hiding behind one finger and live up to their responsibility of upholding the constitution and law and order, which they swore to on May 29, 2015."
"We warned that if what occurred in Benue last week was not checked on time, it would escalate to the federal level. Today we are seeing that warning in play."
"The acting President, being himself a Professor of Law, ought to know that setting such a precedent is an invitation to anarchy."
"There are better uses for our security forces at this time than to lay siege to our citadels of democracy. Our people are languishing in the midst of unprecedented insecurity and nationwide killings. To thus deploy our security forces in this present manner whilst Nigerians face these challenges is an abdication of responsibility to say the least."
"All Nigerians should be watchful and mobilised to defend democracy. We must remember that 'eternal vigilance is the price of liberty."
Some other Nigerians who reacted also condemned the act as undemocratic…
This is to inform Nigerians that the DSS has blocked all enterance and exits to the National Assembly, it's partinent that we all stand tall to #SaveOurDemocracy pic.twitter.com/9LdH3Uo1Uc

— Saka Olawale (@wagzie01) August 7, 2018
If you are at @NGRSenate, please take pictures of all policemen and DSS agents involved in this anti democratic siege and send to me at info@renoomokri.org. We are compiling their names so they can be banned for life by the @USEmbassyAbuja and @UKinNigeria. Please RETWEET!

— Reno Omokri (@renoomokri) August 7, 2018
The on going siege on the National Assembly says a lot about our K-legged Head of State and his cohorts.
Highest level of Gullibility. pic.twitter.com/48MtKJpHIf

— Dayo O' Dayo (@The_Adigun) August 7, 2018
Copyright Naija News 2019.
All rights reserved. You may only share Naija News content using our sharing buttons. Send all news and press releases to
newsroom@naijanews.com
.