Bomber Dies In Failed Suicide Bomb Attack In Borno, Injure Three People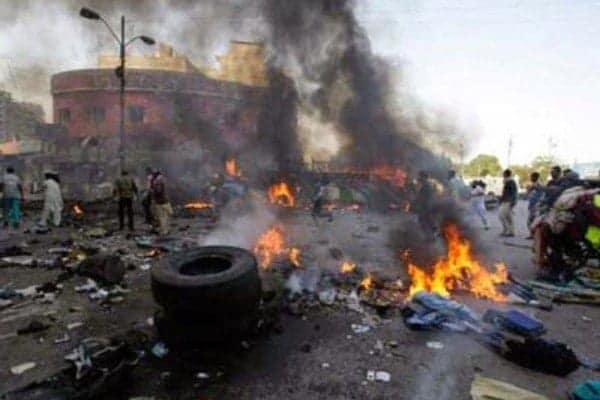 Suspected Boko Haram Suicide Bombers Bomb Selves, Injure Three Residents of Kalari In Borno State.
Five suspected Boko Haram suicide bombers who sneaked into a Maiduguri neighbourhood on Sunday have killed themselves, injuring three residents in the process.
The deafening explosions which was said to be the first of its kind to be heard by residents in recent times, echoed all over Maiduguri at about 7 p.m. causing panic among residents.
According to officials and residents, multiple blasts came from Kaleri, a crowded Maiduguri suburb located behind the University of Maiduguri Teaching Hospital.
Witnesses said the suicide bombers were five, comprising two males and three teenage girls, who walked to one of the houses near Kalari market and knocked at the gate, pretending to be visitors.
"When the owner of the house opened the gate, the teenage girl detonated the bomb she was wearing in her body but it only killed her and injured three other persons," said Biliya Kabiru, a resident of Kaleri.
"The other suicide bombers, who were probably scared by the pandemonium generated by the first blast had to quickly detonate their suicide vests, but at various spots where no one was affected but only themselves," the source added.
The spokesman of the Civilian-JTF, Danbatta Bello,  who confirmed the incident to  Premium Times in a telephone interview said, "It was a sad incident, but we thank God none of the innocent residents lost their lives except the suicide bombers themselves."
"They were five suicide bombers that invaded Kalari; comprising an old man and a boy of about 12 years old and three teenage girls. But the explosions they caused only injured three persons – two by the walls that the explosion brought down and a woman.In a makeshift house near the attacked spot. All of the injured are currently receiving treatment at the hospital," he said.
Kaleri is one of locations within Maiduguri that used to be a den of Boko Haram members.
There is still belief among residents that the area still harbours a large number of Boko Haram members or their passive supporters.
It was in the same Kalari that 22 Boko Haram suspects were arrested including eight who confessed to have participated in the abduction of Chibok schoolgirls in 2014.