APC Ready To Give Senators N50m Each To Remove Saraki As Senate President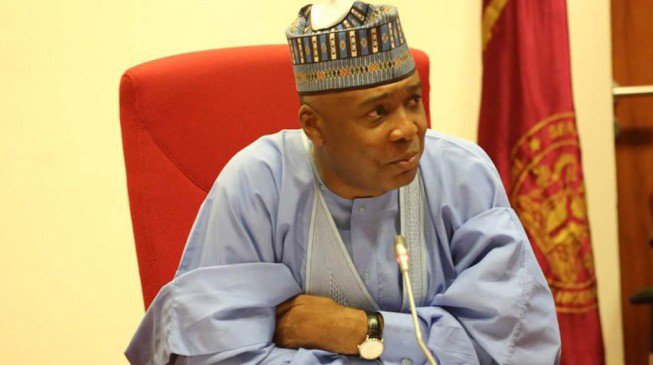 R-APC Accuses APC Of Plans To Remove Saraki As Senate President
The Reformed All Progressives congress (R-APC) has accused the leadership of the All Progressives Congress (APC) of trying to buy over some senators with N50 million to facilitate the removal of Senate President Bukola Saraki who recently defected from the APC.
The rAPC made this known in a statement on Sunday by its publicity secretary, Kassim Afegbua. It did not provide any evidence to back the claim.
"Part of the plot was to reach out to some PDP senators especially those who have EFCC queries in order to give them a clean bill of health once they defect to the APC. They also agreed to woo some senators with the sum of fifty million naira each."
The group said the Nigerian constitution clearly states the procedure for electing and removing a senate president and this should be adhered to.
According to the rAPC, the APC plans to remove Mr Saraki by "hook or crook" for which a meeting was allegedly held at the residence of Adams Oshiomhole, the national chairman of APC.
"The disputed leadership of the APC, working in cahoot with the Attorney General and Minister of Justice coupled with the Secretary to the Government of the Federation have perfected their plans to apply Gestapo methods to forcefully unseat the senate president.
"A high-powered meeting of these persons was held at the Maitama residence of the disputed Chairman of the APC on Thursday, 2nd August, 2018 where they brainstormed on the possible ways to carry out their illegality.
"Senator Abdullahi Adamu has been penciled down to succeed Distinguished Senator Bukola Saraki, amidst a host of other changes in the Senate's principal officers. Once the Senate leadership is overthrown in a coup d'etat manner, the Senate will immediately consider the virement budget of the INEC and also approve the pending nominations in the Senate," Mr Afegbua wrote.
Part of the plot, according to the R-APC, is to get a "friendly Judge" to legalise the removal.
The APC however describes the allegations as false.
"It is a cry of a drowning man. Kassim Afegbua and his cohorts are trying to elicit sentiment and to make futile attempt to dent the integrity of the APC led government. The reason why most of them are defecting is because the President Buhari led administration is not sharing money which is the PDP philosophy.
"So this administration can not inject tax payers money into impeaching the President of the Senate or the Speaker of the House of Representatives. This is a serious government and not a dead party called the PDP," the ruling party said in a statement by its spokesperson Yekini Nabena.
Download NAIJA NEWS app: