Offa Robbery: Court Orders Service Of Summons On Saraki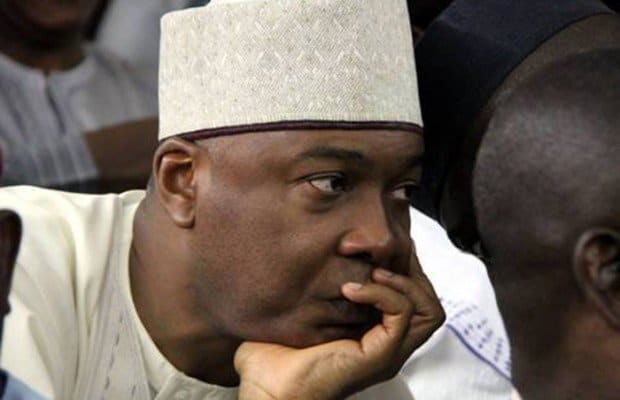 In relation to the on going investigation by the police into the April 5, 2018 bank robbery incident in Offa, Kwara State, a court in Abuja has ordered that a summon be served the Senate President Bukola Saraki, to respond to question regarding the incident.
Justice Abdullahi Garuba Ogbede of the Grade 1 Area Court, ACO Estate, Lugbe, FCT, Abuja, gave the order of summon on the Saraki following a criminal complaint made against the Senate President by an Abuja-based lawyer and rights activist, Oluwatosin Ojaomo, acting under Section Section 89(5) of the Administration of Criminal Justice Act (ACJA) 2015.
E. S. Marcus, complainant's lawyer,  told the court that the defendant was absent in court despite made by an official of the court to serve the defendant with summons issued on July 31 this year.
Following Marcus' complaint, Justice Ogbede invited the court's official, Abdullahi Umar Kutigi, who informed the court that he was prevented from serving the defendant by security personnel at the National Assembly when he visited the place.
The judge said since there was no evidence that proper service has been effected on the defendant, it was difficult for the court to take any further steps on the case.
"The process was not served on the defendant. So, it is ordered that a proper service shall be made on the defendant. This matter is adjourned the 10th of September for mention." he added.
The criminal complaint, a copy of which The Nation sighted on Friday, reads: "Criminal complaint brought pursuant to Section 89(5) of the Administration of Criminal Justice Act (ACJA) 2015. Please, cause a summons for a direct criminal complaint on the defendant on the following terms:
"That you, Dr. Bukola Saraki, on or about the 24th day of July 2018 within the jurisdiction of this honourable court, did refuse to honour the invitation of the Inspector General of the Nigeria Police Force to report at the police headquarters in FCT, Abuja to answer to an allegation involving the investigation of some criminal suspects involved in a case which the Nigeria Police Force is currently investigating, thereby obstructing a criminal investigation and disobeying a public officer carrying out a lawful responsibility .
"You thereby committed an offence punishable under Section 136 and 149 of the Penal Code Law. Whereas, the complainant is praying the court to charge the defendant accordingly."
Download Naija News App. Advertise with us. Send us enquiries and press releases.