Group Calls For Collaboration Between Labour, Other Stakeholders To Industrialize Nigeria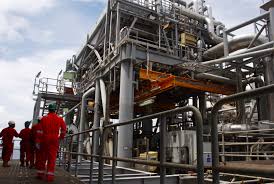 Friedrich Ebert Stiftung,FES, in a bid to promote Nigeria's Industrialization drive, has called for a deepened collaboration of public sector, private sector, labour, civil society organisations, CSOs, and other interest groups in policy campaigns.
The group made this recommendation during the presentation of its industrialization report in Lagos, where it also called for the total overhaul of the nation's industrialization policies.
The presentation was the preliminary report of a study, the Germany-based private, non-profit organisation dedicated to the values of social democracy and economic advancement, commissioned in 2016, to examine past and existing socio-economic and political policies affecting Nigeria's drive towards industrialisation.
Presenting the report, Dr Omo Aregbeyen of the Department of Economics, University of Ibadan said: "FES called for Sustained and deepened collaborations with the public sector, private sector, labour organisations, CSOs and other interest groups in policy campaigns and advocacy; and to involve more strongly in policy formulation and review, as well as in the monitoring of the implementation."
FES noted that interacting with the labour unions in the course of the study, the unions "linked Nigeria's inability to develop or industrialise despite over five decades of economic/industrial policies formulation and implementation to policy inconsistency, lack of synergy among the different institutions of government, infrastructure (particularly energy), high interest rates on lending, inconsistent and unfavourable tariff regimes/smuggling/counterfeiting, low patronage of made in Nigeria goods, insincerity on the part of our leaders and lack of government support for industrialisation.
"Little gains recorded with the ISI in the post-independence era up till the early 80s were squandered by the devastating impact of SAP and the unprecedented surge in foreign exchange rate at a time the bulk of inputs of local industries were imported. Approaches adopted do not totally support industrialisation and are without consideration for small and medium enterprises. Also, export-led strategies of the 90s have not produced the desired results with unstable macro-economic environment, poor infrastructure and other operating challenges for local industries.
"Specific successes that have been recorded with respect to economic/industrial policies over time include (i) the development of Nigeria Industrial Revolution Plan; (ii) the development of the Cotton, Textile and Garment (CTG) revised plan as well as other policies like the auto policy, but whose implementation has been a huge setback; (iii) establishment of Bank of Industry (BOI) and provision of single digit interest rate (though the funding capacity has to be expanded); (iv) patronage of made in Nigeria goods, and (v) suspension of Economic Partnership Agreement (EPA) as a step in the right direction.
The specific failures are the abandonment of planning as a vehicle for development and the wholesale adoption of neo-liberal economic framework which has created serious setback for industrial development. Shortfalls in economic policy generally and industrial policies being pursued presently with regards to contents, formulation and implementation comprise weak involvement of critical stakeholders, lack of synergy between agencies of government, policy inconsistency and poor/weak policy implementation framework."
Dr Aregbeyen decried the inconsistency in the nation's policy formulation and implementation processes, arguing that in as much as Nigeria continues to operate what he called "pseudo federalism" with overbearing powers of the Federal Government overshadowing the states, Nigeria would remain underdeveloped.
Earlier, FES Project offIcer, Mrs Remi Ihejirika, advised Nigerians to appraise the report with a view to correcting the anomalies in the economy.
According to her, the organisation would always be willing to contribute to the socio-economic development of Nigeria.
Copyright Naija News 2019.
All rights reserved. You may only share Naija News content using our sharing buttons. Send all news and press releases to
newsroom@naijanews.com
.