Yoruba Needs To Unite To Be Relevant In Nigeria – Bode George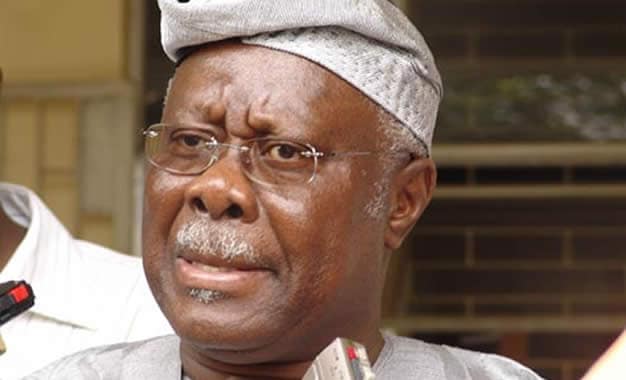 Don't Allow Your Personal Ambition To Affect The Collective Destiny Of Yoruba
Chief Bode George, the former Deputy National Chairman of the Peoples Democratic Party, has urged yoruba sons and daughters to unite and shun any selfish interests so as to remain a formidable and relevant part of the country.
The statement was made in Osogbo on Tuesday at the Grand Zonal Congress of the South-West Youth and Women Leaders.
George stated that Yoruba can not remain at the top and above others, when the Yoruba leaders could no longer stay away from distrust and selfish directions.
While stressing that the Yoruba people needs to relate with other geopolitical zones across the nation, he urged the Yoruba people to build bridges of relationship ahead of the 2019 general election, so as to achieve the best for the people.
He said though there might be personal ambitions that should not affect the collective destiny of the race, he took the opportunity to urge the present leaders to follow their style of leadership.
George said, "The Yoruba founding pioneers were indeed representative of men and women who came from the furthest reaches of Ekiti, the fertile expanses of Ondoland, the streams and waters of Osun, the forests and thickets of Oyo and the mountainous ranges of the Atlantic shores.
"Today, we occupy an inevitable position in the Nigerian firmament because we are now too much self-absorbed. We are too much hindered by parochial pursuits to the detriment of the greater Yoruba vision. We have dismantled the collective oneness which once gave us the cutting edge advantage in the past.
"We must return to the sacred dignities of old where personal ambitions were restrained by humility. We must return to the instinctive patriotic zeal that insists on sacrifice and selfless service. We must return to the good old days when hard work and perseverance were treasured over the lazy recourse to the easy ways.
"We can no longer afford to be going in different directions. That will not get us anywhere. It will always result in confusion and chaos. It will always result in aimlessness and forfeiture. As we push and pull in different ways, we become weaker and invariably enfeebled without any relevance, without any cogent achievements."
Download Naija News App. Advertise with us. Send us enquiries and press releases.