Resign Or Be Sacked, Lai Mohammed Tells Saraki's Loyalist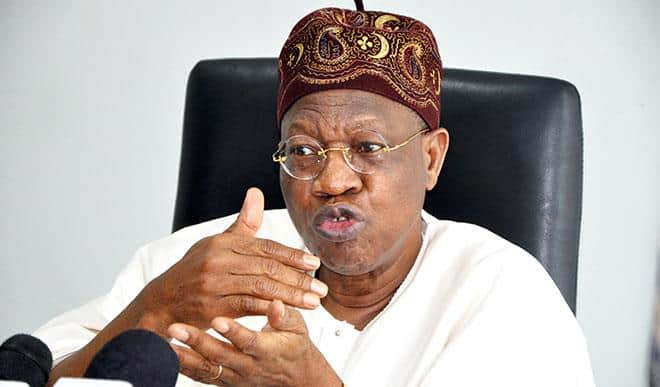 Lai Mohammed, minister of information, has told Kwara state members of the All Progressives Congress (APC) in the camp of Senate President Bukola Saraki to resign federal government appointments or get fired.
This the minister said in a press conference at his hometown in Oro, Irepodun Local government area, Kwara state.
He said that it is not acceptable for members of the party who have chosen not to desert the party would not benefit from it while those who left the party will choose to hold on to the political appointment of a party they have dumped.
The minister also expressed confidence that the ruling APC would win the gubernatorial election in the state in 2019.
"For six members of house of representatives to decamp from All Progressives Congress in Kwara state, to other political parties,we don't need a rocket science to know,that all of them are no longer with us," he said.
"They cannot continue to enjoy the political appointment of a party they have dumped, while those who are our genuine members, still in the party don't have such benefits."
Mohammed also disclosed the intention of the federal government to dissolve the APC faction loyal to Saraki.
He said this is as a result of the wide consultations with all the stakeholders in the state.
Mohammed read out some resolutions arrived at during the "consultation".
"That the Balogun Fulani-led Kwara APC executive committee be immediately dissolved and a fresh congress that will include all Kwara APC members and those who are just coming into the party be held at the various levels to constitute a new executive.
"That all those who got appointments by deceit, hiding under the facade of being party men and women, should immediately resign such appointments or be fired.
"That the recent gale of defections has now put the APC in a position of true majority in the national assembly, as those who remain are the ones who are truly committed to the ideals of our great Party.
"That all members and supporters of our great party restate their unflinching support for President Muhammadu Buhari and assure him of a harvest of votes from Kwara state in the 2019 general election. That all members should remain calm because there is no cause for alarm."
Source: Naija News