Leave Ekweremadu And Other Igbo Politicians Alone – Anglican Bishop To EFCC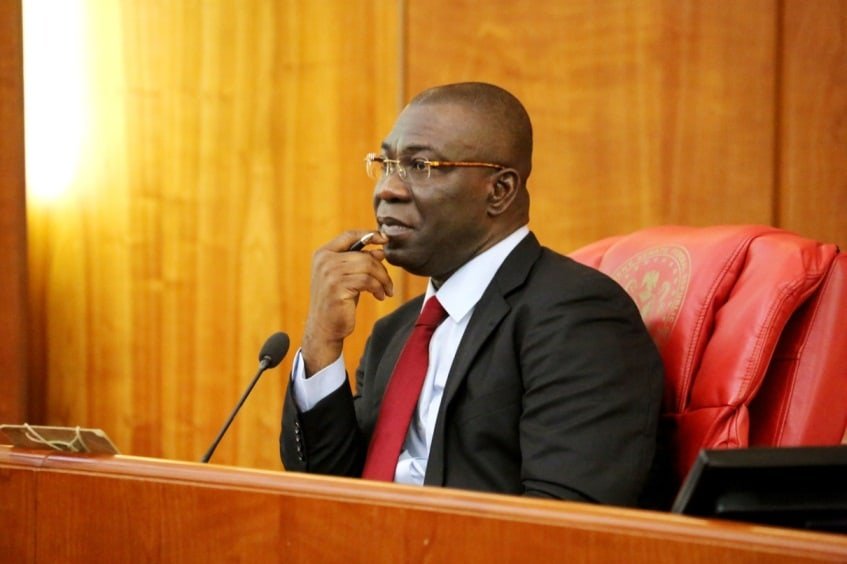 Enugu Anglican Diocese Alleges That The Present Administration Is Victimizing Igbos.
The Anglican Church, Enugu Diocese has faulted the invitation of Deputy Senate President Ike Ekeweremadu by the Economic Financial Crimes Commission, over an alleged case of conspiracy,abuse of office and money laundering.
While the Bishop of Enugu Diocese (Anglican Communion) Dr. E O Chukwuma, Archdeacons and Canons of the Province today paid a solidarity visit to Ekweremadu at his Enugu residence, they described the act as victimization, urging President Muhammadu Buhari to warn his security operatives.
Archbishop Chukwuma who offered some prayers during the visit said the case against the Deputy Senate President "is a vindictive act; a jealous spirit against the leadership of the Igbo politicians and against us as Christians."
Said Chukwuma: "We are here to tell the world that you are a true child of God who nobody should find a way to rubbish. As far as we are concerned with your credibility and integrity, we have not heard since you started your journey as the local government chairman, moving to becoming Chief of Staff, Secretary to the Government of Enugu State to what you are now, there is no record, and nobody has ever heard that you stole money anywhere.
"When we had the list of those, up till now, published of those who ate money in the 2015 election, we didn't find your name there and so we are embarrassed when they say EFCC. What is EFCC looking for? EFCC should please leave Ekweremadu alone because his name was never mentioned anywhere.
"We feel that this is a vindictive act; a jealous spirit against the leadership of the Igbo politicians and against us as Christians. EFCC should stop intimidating people if we are going to have a good democracy in this country. They should stop this idea of witch-hunting.
"You have been a stakeholder in PDP and you have remained firmness; you have not cross-carpeted and you will never cross-carpet and so they should leave you alone.
"As far as we are concerned as the Anglican Church, we stand behind you. We call on the Federal Government to leave Senator Ike Ekweremadu alone and stop witch-hunting him for nothing. This is witch-hunting and we have no apology for the Federal Government. But what we say is that they leave us alone. All we want is peace in Nigeria, and you cannot continue to stand firm in fighting for the unity of Nigeria and somebody is trying to intimidate you.
While Lauding the Senator, Bshop Chukwuma noted that the Senator has done very well in his senatorial zone  adding that he Ekweremadu was in constant touch with his constituency. Other senators should emulate you. We will very much support you in prayers and we are proud of you.
"If anybody touches you, they are touching the eyes of God; they are touching the eyes of Ndi'Igbo and we shall not take it for granted.
They should allow peace to reign and Mr. President should please warn the security people. The security people should please know where to go. Benue and Plateau have been burning and nobody has gone there to lay siege.
He said "All the defections are a result of people saying they are tired of this government. It is a negative report. Jonathan withdrew and exited for peace to reign.
"There is no peace, there is no security, the economy is bad, there is no employment, and the appointments in this government are all northern and northern. We are being marginalized and we cannot stop saying it. South East is being marginalized and now it is victimizing our own very best person, we will not take it.
"We pray that God Almighty will touch their hearts because if care is not taken, the way things are going now will result into a serious, not only religious war, but a serious war that will never make Nigeria to be united. So, to save Nigeria, we must renegotiate it and restructuring must come. That is where we stand for peace to reign.
"We appeal to Mr. President, the security agencies and EFCC to leave Senator Ekweremadu alone; they should leave our people  alone. South East is being marginalised and we are crying and saying please, give us our due reward, Nigeria belongs to all of us. If not, then let us go back to our places and let us stay on our own".
Ekweremadu in turn, thanked the clergymen for their visit and informed them of his resolve alongside his colleagues to ensure that the nascent democracy we are enjoying today is not truncated.
He assured them that he would continue to ensure that the fundamental human rights of the masses of Nigeria was constitutionally protected.