Saraki To Fight Against Police Invitation With SANs Aid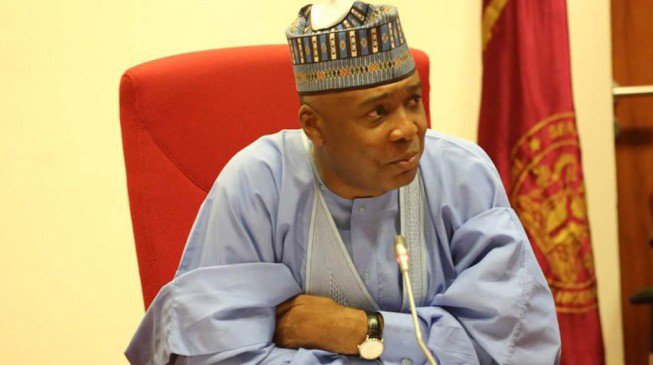 Saraki Might Not Respond To Police Invitation
Rafiu Ibrahim, the Senator representing Kwara South Senatorial District in the National Assembly, has revealed that the Senate President, Bukola Saraki, will employ a team of Senior legal experts to handle the allegation of the Offa robbery levelled against him by the police.
The Senate President has been insisted by the police to appear before them so has to make clarifications on the statements of the suspects arrested in connection with the robbery.
Ibrahim, who was among the senators that defected to the Peoples Democratic Party, revealed that Saraki's lawyers, who are mainly Senior Advocates of Nigeria, were already brainstorming on the case.
The move could be a drive that the senate president would not appear before the police and might employ the help of his lawyers to handle the case.
The declaration came as a result of the Police Force PRO, Moshood Jimoh, insisting on the appearance of the Senate President before the force.
Ibrahim said, "The Senate President has a very strong legal team of many senior advocates of Nigeria who are already working on the issue. He has a legal issue with the police and he will take the case up legally."
He explained that the executive arm of government bungled a fresh strategy that was being coordinated by Saraki aimed at reconciling aggrieved federal lawmakers with the APC leadership when the police reportedly barricaded the Senate principal officers' homes in Abuja.
He said, "As we were strategising on how to convince our members to let us reconsider our stand and shelve our plans to defect, the police brought a letter by 8pm on Monday, asking the Senate President to appear before them by 8am on Tuesday.
"The following day, very early in the morning, the EFCC went to the house of the Deputy Senate President, Ike Ekweremadu, blocked his house and successfully ensured that he did not go out.
"Simultaneously, some policemen were also at the home of the Senate President with a specific instruction to prevent him from leaving his house. Those who could carry out such actions could as well kill the principal officers or bomb their houses.
"My concern at the moment is to ensure that the Senate President is alive. The agents of government are getting desperate just to actualise their plans."
Ibrahim added, "Their plan was to ensure that the two of them were not available for plenary on Tuesday so that some senators could remove Saraki and Ekweremadu as Senate President and Deputy Senate President, respectively.
"However, God, in his infinite mercies and powers, used some people to disorganise their plans by helping Saraki to preside over plenary on Tuesday. It was God, nothing else.
"We adjourned abruptly on Tuesday because the federal authorities deployed armed policemen who laid siege to the residences of our presiding officers.
"If they can put the SP and the DSP under house arrest, what stopped them from arresting senators on the streets of Abuja and institute frivolous litigation against them?"
The senator added that members' defection on the floor of the National Assembly chambers would be in phases."
Source: Naija News