Osun Pensioners Call On Buhari To Investigate Aregbesola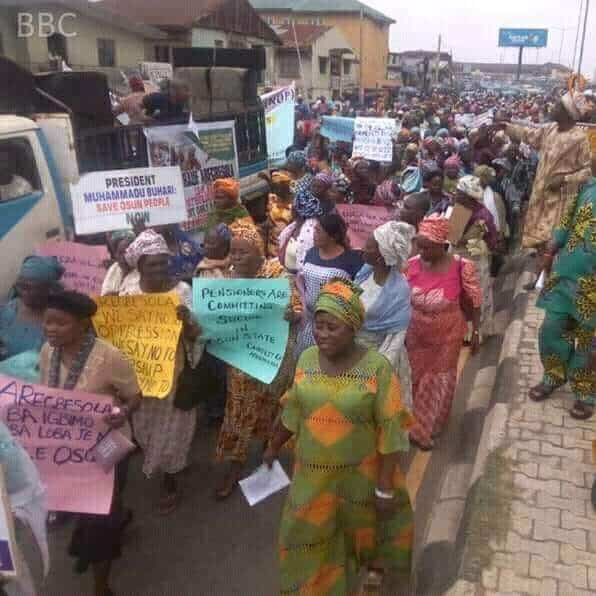 Osun Pensioners Protest Non-payment Of Gratuities, Cry Out To President Buhari To Investigate Aregbesola
Pensioners in Osun State have again stormed the streets of Osogbo, in fresh protest against the non-payment of their pensions and gratuities.
The retirees yesterday, said the state government owed them 18 months' pensions because of the modulated payment policy since 2015, adding that many of them who retired since 2011 had not been paid their gratuities.
Carrying placards with writings like 'President Buhari Investigate Aregbesola and his cohorts', 'President Buhari Save Osun People' among others, and singing to God to save them, the protesters gathered in hundreds at the Ayetoro area of the town as early as 7 am and they marching towards the popular Olaiya Junction.
The retirees decried the non-payment of their entitlements,  saying that about 2,500 of their members had died as of March 2018.
The Chairman of the Nigeria Union of Pensioners, Osun State chapter, Alhaji Ganiyu Salawu, said Governor Rauf Aregbesola had refused to pay the 33 per cent as well as the 142 per cent increment implemented for pensioners.
Salawu said, "Majority of our people are dying of hunger. Our entitlements are not regular, and the issue of half salaries and pension is very bad. The 33 per cent increase implemented in 2010 has not been implemented. The 142 per cent increment is not paid also.
"We have written letters to the governor but there is no acknowledgement. We also wrote five other letters to remind him, still there is no response.
"We don't have any grudge against the government but we want our entitlements. We are not politicians and no politician is using us. What we what is that our entitlements should be paid so that we can begin to live a decent life. We have worked so hard and now that we are supposed to be eating the fruits of our labour, the government is depriving us.
"Some of our members have been ejected from homes because they can't pay rent; our children are out of schools. Some of our graduates are jobless, so, how do they take care of themselves let alone their parents."
The leader of the Forum of 2011/2012 Retirees, Alhaji Yemi Lawal, said no fewer than 2,500 retirees had died as of March 2018, saying the majority of the deceased died due to starvation and frustration.
Lawal said, "The governor is using the money to construct roads and build schools even where there are no pupils.
"A kilometre of road is constructed on the average with N600m in most states in the country but in Osun it is N1.2bn and this is why there is focus on road construction.
"Our people are dying on a daily basis and that is why we are out to protest again. We cannot continue to watch this happening on a daily basis. The governor was paid a bailout of N35bn, Paris club repayment and budget support of N14bn but he still owes us. This agitation will continue until we are paid.
"We have recorded 2,000 deaths among our members as of March this year and a retired headmaster committed suicide in Ejigbo. We wrote to the lawmakers at the House of Assembly and they have not responded. The lawmakers are lining their pockets."
In the same vein, chairperson, Women Wing, Osun State chapter of NUP, Mrs Ronke Aderibigbe, said retirees had been facing very tough challenges due to the problem of unpaid pensions and gratuities.
She said many retirees had been turned to beggars because of the financial challenges they were facing while calling on the state government to pay them.
State Commissioner Of Information Says Protesters Are Paid Michief-Makers
However, the Commissioner for Information, Mr Adelani Adepegba, in a statement issued to react to the protest, described the protesting pensioners as paid mischief-makers.
The statement read, "No genuine retired workers in the state will go out to protest on the lies and the political statement they call non-payment of pension and gratuity. Any pensioner that does that should be checked, he or she might be a paid mischief-maker and blackmailer.
"We wish to remind the general public that this set of pensioners were persistent in their show of shame and political gathering called protest between June and July last year when we were about to conduct the Osun West Senatorial District bye-election. They disappeared into thin air immediately after the election. Seeing them on the street this time round is not surprising, they have been obviously paid to blackmail the government like they did a year ago."
Source: Naija News