Military Doing Everything Possible To End Insurgency – CAS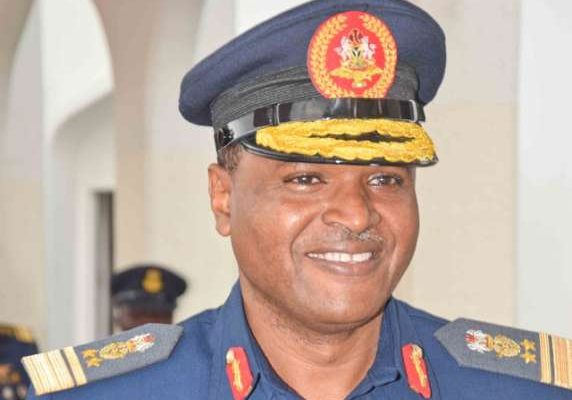 Air Marshal Sadique Abubakar, the Chief of the Air Staff (CAS), on Monday, said that the Nigerian Military is doing all it can to put an end to the menace of Boko Haram insurgency in the North East region of the country.
Abubakar made this known in Lagos during the inauguration of the reconstructed officers' mess at the Nigerian Armed Forces Resettlement Centre (NAFRC).
He revealed that the military had done a lot to take control of areas formerly under Boko Haram captivity.
"We are doing everything humanly possible to ensure we deal with the problem of Boko Haram.
"Lets not forget where we are coming from an era where over 22 local governments were controlled by Boko Haram before we recaptured them
"However, I am not saying that we should allow this to happen but what I can tell you is that in all insurgences, what is required is for us to keep the fight,'' he said.
He added that the cooperation of the people in the region is paramount for the military to get the need information and intelligence about the activities of the insurgency, as intelligence gathering was key in the fight against insurgency.
"But on the whole, I think we are working hard and we will sustain it to ensure that every community in Nigeria is secured,'' he said
Abubakar expressed confident that security agencies in the country would work together to gather intelligence before they confront the insurgents on the field.
"We need to work hand in hand with security agencies in providing intelligence which is very important.
"No fighter aircraft can detect a girl carrying bomb. It's human being that will come and disclose what is happening and where.
"It's also from that intelligence that you plan your operation and make sure you deal with that threat.
"So, I want to urge us to keep supporting the Federal Government, our Armed Forces and other security agencies and also pass whatever information that is useful to all security agencies,'' he said.
Abubakar, also appreciated the leadership of NAFRC Commandant, Air Vice Marshal Austine Jekenu, for seeing it wise to reconstruct the mass, adding that the commander had succeeded in changing the face of the mass in a short period of time.
"Honestly, I am delighted with what is here. This is what I call a people's centered leadership.
"What we have went round to see shows that the commandant and his team have focused on building capacity and he has done exceptionally well,'' he said.
Jekenu appreciated President Muhammadu Buhari for his unflinching support to the centre while he took the CAS on a tour of the NAFRC establishment.
Top officers in the military both serving and retired were present during the inauguration of the project.
Download NAIJA NEWS app: