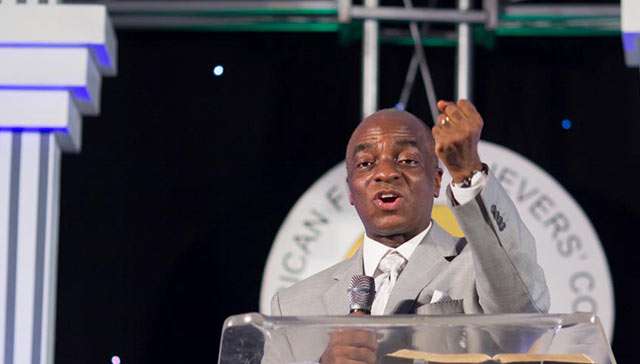 Covenant University's Best Student Graduates With CGPA Of 4.99
The Covenant University, in Ota, Ogun State on Friday, produced a total number of 238 students who graduated with first class honours degrees at the institution's 2017/2018 Convocation.
Prof. Aaron Atayero, the institution's Vice-Chancellor, revealed this during the university's 13th Convocation, and the Conferment of Honorary Doctorate Degrees and presentation of prizes to its deserving students.
Reeport has it that the university graduated 1,887 students for the 2017/2018 academic session.
They comprised: 238 first class honours, 746 second class upper honours, 452 second class lower, 86 third class and 365 post-graduate students.
Miss Salami Toluwani, from the Department of Industrial Chemistry, College of Sciences emerged the best student with a Cumulative Grade Point of Average (CGPA) of 4.99.
While speaking she stated that graduates are not trained to seek for job but to provide employment and if employed they should be distinguished.
"All over the world, our graduates are always breaking the grounds in many human endeavours," he said.
Atayero, while speaking on the success of the school attributed it to high quality of teaching linked with high quality of research.
The graduating students were urged to use all their experiences to solve problems in the country's leadership, unemployment, poverty, wanton killings, infrastructural deficit and poor health services.
Dr David Oyedepo, the Chancellor of the university, while speaking said there was the need to redefine democracy in the country so as to surmount its challenges.
He noted that leadership was not just about talking but taking the lead, he said that leadership was not an endowment, but a product of outstanding accomplishments.
He said that the vision of the institution was to raise a new generation of leaders in every area of human endeavour, which would engender great changes in Nigeria, African and the world at large.
"I implore you all to start thinking about changing and start thinking of solutions to challenges confronting the nation," he said.
Oyedepo advised the graduating students to imbibe and uphold the core values of the institution.
In a keynote address, Mrs Ibukun Awosika, the Chairman, First Bank of Nigeria PLC., advised the graduating students to identify every problem as an opportunity to proffer solutions to them, especially, those confronting the country.
Awosika said that the graduates had better opportunities because they had real value of education from a good university that impacted quality education on them.
"Challenges do not destroy vision but they empowered vision," she said. Awosika, however, advised the graduates not to allow circumstances to overcome their sense of vision.
She also enjoined them to seek knowledge with character, adding that without character, it would be difficult to actualise their dreams.
Source: Naija News