Coalition Of Observer Groups Reject Ekiti Election Results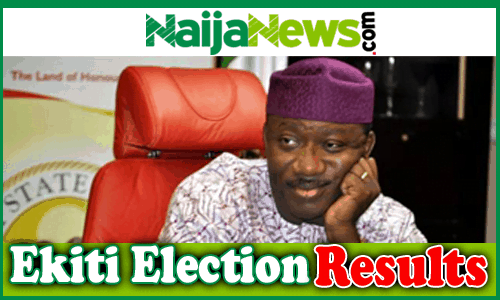 We Will Expose Fayemi, The Security Agent And  INEC Officials
A coalition of observer groups and civil society organisations have rejected the outcome of Saturday's Ekiti State governorship election and also accused the Independent National Electoral Commission  of conspiracy with security agencies to rig the election in favour of Dr Kayode Fayemi.
In a statement by spokespersons Comrade Haruna Farouk and Nze Adachi Okoro, they said the exercise did not reflect their findings, promising a full disclosure tomorrow.
"Other incidents that we recorded will be made open in our findings, which will definitely shock Nigerians and expose the conspiracy of INEC, security agents and the APC to keep the people of Ekiti from expressing their constitutional rights," the statement said.
APC Rigging In Ekiti, Example Of What To Expect In 2019 – Cleric
Meanwhile the General Overseer of Mount Zion Faith Global Liberation Ministries Inc (a.k.a By Fire By Fire), Nnewi, Bishop Abraham Chris Udeh, has said his prophecy of a monumental rigging in 2019 presidential election by the All Progressives Congress (APC), is gradually manifesting with what happened in Ekiti State last Saturday.
Bishop Udeh said what happened in Ekiti will be a child's play compared with what will happen in 2019 presidential election.
Speaking in an interview with newsmen, the cleric said: "I saw it coming that people would come out en masse with their PVCs to vote and that the votes would not count".
He claimed that he saw the APC government will use the DSS, EFCC, ICPC and the judiciary to intimidate their opposition for it to win the 2019 presidential election.
"The APC government at the centre has begun to perfect its rigging techniques and anybody who speaks out against that will be a guest to the DSS or EFCC. " And I see the Fulani herdsmen taking over the entire Nigerian nation. If the Igwes, Obas and other traditional rulers fail to defend their territories now, they are losing them to the cattle herders soon.
"And the rest of Nigerians would be slaves to Fulani. Every State and every community must stand up now to resist the Fulani's effort to conquer the entire nation. One begins to wonder how cows have become sacred creatures whose lives are more valued than human beings," he lamented.
Bishop Udeh said he saw the APC government standing an idol to use it as a tool for election rigging and called on all Nigerians to rise to the occasion to get prepared to "throw" out the APC government, come 2019 by doing all they could to resist any form of rigging applied by the ruling APC government.
He noted that the APC government at the centre had failed to adopt democratic principles and advised that President Buhari must make way for a known democrat to take over leadership of Nigeria in the next dispensation.
Bishop Udeh said the ideal government he expected to reign in Nigeria was a situation where every army division would be controlled by the State Governor known to be the chief security officer of his State.
He also said that the State should be in control of the police, adding that it is the only way security lapses in Nigeria could be checked.
https://www.youtube.com/watch?v=fKY1XlA3jNk