Voter Express Shock That Fayose Hasn't Voted Yet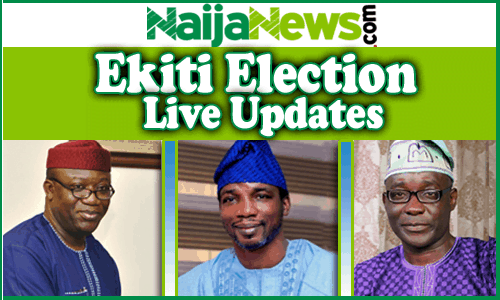 Voting exercise is almost ending at at polling unit 001, ward 1, Afao-Ekiti, Irepodun-Ifelodun local government, where Governor Ayodele Fayose hails from and is expected to vote but surprisingly, he is yet to vote three hours after the election started.
Some of the voters who casted their vote at the local government were shocked that they hadn't seen him coming to cast his vote.
"We expected that Fayose will be the first to arrive here to vote and mobilise people, but we can't understand why he's yet to come," a voter said.
This box still expecting Fayose's ballot paper
"This is very unlike Fayose," another told newsmen
When Newsmen visited his country home less than two kilometers from the polling unit, the security operatives stationed around said the governor was still resting.
Electoral officials have less to do
"He came into town last night, but he still resting and would come out to vote when he's up," one of the operatives said.
Accreditation with voting is expected to end by 2pm.
Across the state, the exercise has been going on smoothly but there have been reports of inducement by both All Progressives Congress (APC) and the Peoples Democratic Party (PDP).
Meanwhile, Kayode Fayemi, candidate of the APC and Kolapo Olusola of the PDP, have voted.