Ekiti Election: Massive Voters' Turn Out Experienced in Polling Units in Ado Ekiti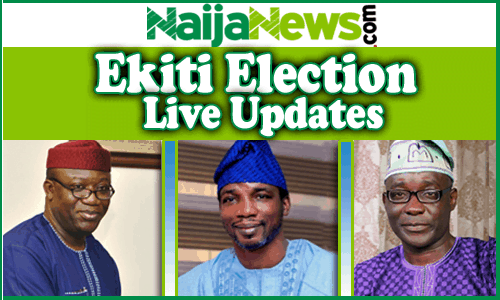 As the People of Ekiti State File out to elect a new governor, report currently emanating from Ekiti State, hundreds of voters trooped to the polling units as early as 7 am, as the election is seen to be experiencing a large turn out of voters for the Ekiti State governorship election in many parts of Ado-Ekiti.
According to Punch, over hundred voters including the aged nursing mothers and a nurse at the ward, waiting for officials the Independent National Electoral Commission around 7.05 am, in ward 9, opposite Ekiti State University along Adebayo Road.
A van belonging to the Nigeria Security and Civil Defence was parked in front of the university.
Security has been tight has security personnel conducted search on motorists and people passing by.
INEC staff already at their duty post at ward 8 unit 009 as voters were seen checking for their names on the lists.
Commercial activities were going on around 7.21am as food vendors attended to customers at Igbehin market.
At Ijigbo junction, several vans belonging to the Nigerian Army were seen patrolling the area as voters formed queue s for accreditation.