Ekiti Election: No Intimidation Would Stop PDP's Victory – Secondus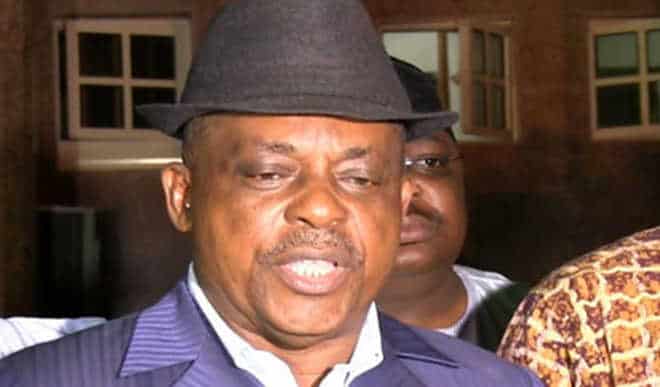 Prince Uche Secondus, The National Chairman of the People Democratic Party (PDP) on Friday assured that Prof. Kolapo Olusola Eleka, the candidate of the PDP in the July 14 Governorship election would come out victorious.
Secondus made this known in Abeokuta, the Ogun State capital ahead of Saturday's meeting with former President Olusegun Obasanjo, along side PDP Board of trustee Chairman, Senator Walid Jubrin, Chief Bode George, former Senate President, Adolphus Wabara among others national leaders.
Secondus alleged plans by the All Progressives Congress (APC) controlled "Federal government to take Ekiti State by force but said no amount of intimidation can subvert the will of the people."
Secondus criticized the anti- corruption war of President Muhammadu Buhari – led government, saying it claimed to be fighting corruption "whereas it is committing mother of corruption" with Abacha's loot.
"How on earth will a government engage in mother of corruption? Abacha's loot money has been withdrawn from the banks and being given to cronies.
"We want assure President Muhammad Buhari and APC that they will be held accountable.That is mother of corruption.
"No government will put money in baskets and starts sharing. When PDP takes over in 2019, we will ask them to refund every kobo of Abacha's loot,
"The Abacha's loot the Federal government said they are going to share without budgettibg for it is a wrong way to appropriate money. It is never done anywhere. That is recipe for corruption. Who are they giving it to?
"I believe that the money is meant for the APC government for election in 2019 and they have started using it. If they do, when we take over, we will probe it. They will be held responsible and accountable and they will refund because they must appropriate for it," he said.
Secondus stated that plans are in motion to ensure the overthrow of the ruling party. He also stated that APC would be feeling the heat of the 2019 elections in coming weeks.
"You will see signs and wonders. In a matter of weeks, there will be shaking and shifting. The APC government has nothing to offer, they are afraid. What they are doing today is not knew, it has happened before. We can't be intimidated," Secondus told his cheering party faithful.