"South Africans Cannot Hate Nigerians".- President, Cyril Ramaphosa Debunks Rumours Of Xenophobia Attacks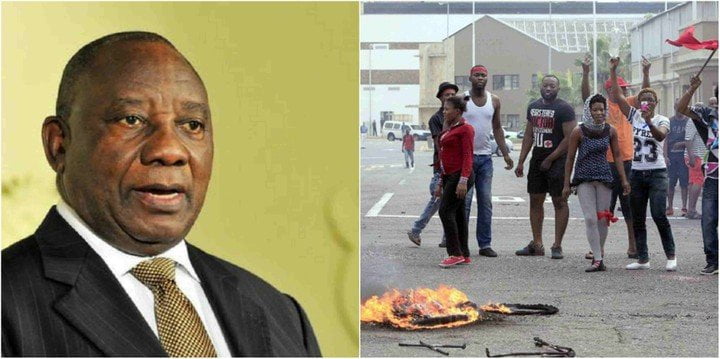 South African President, Cyril Ramaphosa Says Killings Of Nigerians In His Country Is Not Xenophobic, Promised To Bring Perpetrators To Book.
The South African President, Cyril Ramaphosa, has blamed criminal elements in his country for the killings of Nigerian resident over there.
Ramaphosa who spoke to newsmen during a joint press conference he held with President Muhammadu Buhari, after their closed-door meeting in Aso Rock Presidential Villa, Abuja noted that the rumours that the killings of Nigerians are as a result of xenophobia is not true. He vowed to bring perpetrators to book.
While President Ramaphosa acknowledged that Nigerians through their support and sacrifice helped end the apartheid crisis in his country, he said it will be wrong to assume that Nigerians were being targeted as a result of xenophobia, as "South Africans cannot hate Nigerians".
Ramaphosa explained that the high level of unemployment in South Africa which he puts at 9 million has resulted to crimes that involve and affect citizens and foreigners alike.
He however assured that his government was working hard to reduce crime rate in the country.
He said:
"There has been quite a number of incidence in our country where foreign nationals some of whom are Nigerians have lost their lives and are being attacked. I will like to say here and now that, that has been as a result of criminal activity among our own people which we are focusing on from a criminal element point of view.
"I want to state here and now that South Africans do not have any form of negative disposition or hatred towards Nigerians and in the main Nigerians in South Africa and a number of places of our country live side by side, they cooperate very well and some are in the corporate structures of our various companies and some are traders and some are into a number of things.
"So, I want to dispel this notion that when a Nigerian looses his or her life in South Africa, it is as a result of an intentional action by South Africans against Nigerians. That is simply not true.
Ramaphosa described the situation as disturbing, saying it is capable of hurting the recently-signed Continental Free Trade Agreement (CFTA) aimed at deepening intra-African commerce.
Speaking at the opening of the 25th annual meetings of the African Export Import Bank (Afrexim Bank), Ramaphosa said his administration realizes the role safety and security play in boosting intra-African trade and commerce and as such had begun tackling the xenophobic killings in order to guarantee sustained peace and progress on the continent.
He also revealed that a robust continental security masterplan exists at the African Union (AU) where a peace and security council was addressing the issues of security on the continent.
President Ramaphosa Encourages Free Trade  For All Countries
"It is tagged silence the guns" all in a bid to achieve security and safety. This free trade agreement has derivatives and want to see how countries grow economically and see how the guns are silenced.
"We have safety of people and movement of goods etc that are fully captured in the CFTA.
He said the CFTA was a most welcome development, urging all nations to sign the agreement in view of the enormous potential inherent in it:
"The agreement is pregnant with opportunities and of course challenges. We can then trade more effectively with one another devoid of tariff and then increase demand for the goods produced and sold. People will see the need to be manufacturing goods since a close market exists.
"It will boost industrialisation and indeed, it presents the grandest opportunities to go behind politics and solve conflicts through trade."
Read More News. Download Naija News App. Send us enquiries and press releases.