Teargas Attack On Governor Fayose: Nigerians React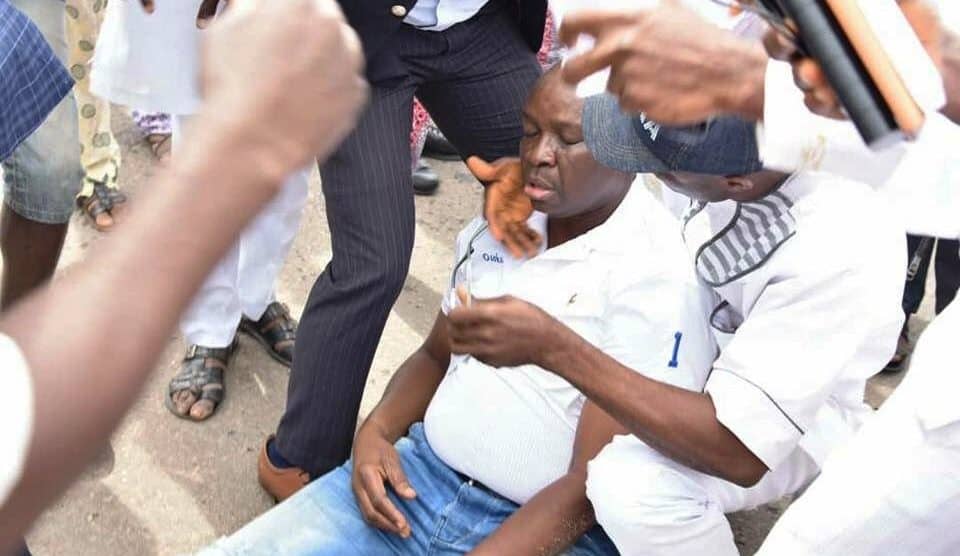 Comments Flood Twitter Over Dramatic Turn Of Events At The Ekiti PDP Rally
Comments have started flooding Twitter, following the dramatic turn of events at the Peoples Democratic Party Rally in Ekiti State that witnessed the unleashing of teargas on Governor Ayodele Fayose.
Naija News has earlier reported how Governor Fayose collapsed during a PDP rally as policemen tear gas attack at the venue of the political campaign.
While some have taken sides with the Governor, describing the incident as "undemocratic act of intimidating the opposition party",  some have also noted that the action was justified.
Still some have expressed uncertainty at the whole incidence, wondering why Governor Fayose was the only one affected by the tear gas.
See Tweets:
Instead of declaring war on herdsmen killing innocent people, Buhari and his killer squad have declared war on a Ekiti people. Governor Fayose wasn't spared in their madness,he was shot at and slapped by police officers. PDP will still win on Saturday ntoorr

— Hon E-OLU (@olumadewa) July 11, 2018
Ekiti State capital is locked down as we speak. ..all in a desperate attempt to rig elections, the security agencies have taken over the state.

This is Governor Fayose being tear gased after which he slumped and was he was resucitated.

Democracy is in danger in Nigeria. pic.twitter.com/Kov3Ep0m18

— abdulai afolabi (@alphonzohunter) July 11, 2018
No matter how much you hate the PDP or Governor Fayose, if you have no atom of concern or find humor in what just happened this afternoon, you should really have yourself checked.

This is beyond barbaric

— BeingHumanAintEnough (@realdanielemeka) July 11, 2018
So Police can now attack government house,I don't understand where this country is headed!
At this point I want Governor fayose to win that election…
But what is going on in this country,is there still anything like democracy sef?

— ✴ Nicest Bait☯️✴ (@David_jodeci) July 11, 2018
Governor Fayose, the struggles of a man bereft of political gimmicks. This new fainting propaganda is to attract sympathizers for the forthcoming Saturdays election. Hate or love him, he's an astute Nigerian politician. pic.twitter.com/Yx2QbZb1P1

— Temi (@Tbauze) July 11, 2018
In the news "Governor Fayose" was attacked and teargassed, but he seems to be the only one 'touched by the teargas.

— Dele Atoun (@Datoun) July 11, 2018
Meanwhile, a live broadcast of the political rally as monitored by Naija News on Channels TV, shows that the tear gassed Fayose, returned to the PDP rally in a neck cast to address his supporters asking them to stand with him and stand for justice, urging them not to be intimidated by the antics of the opposition.
Source: Naija News